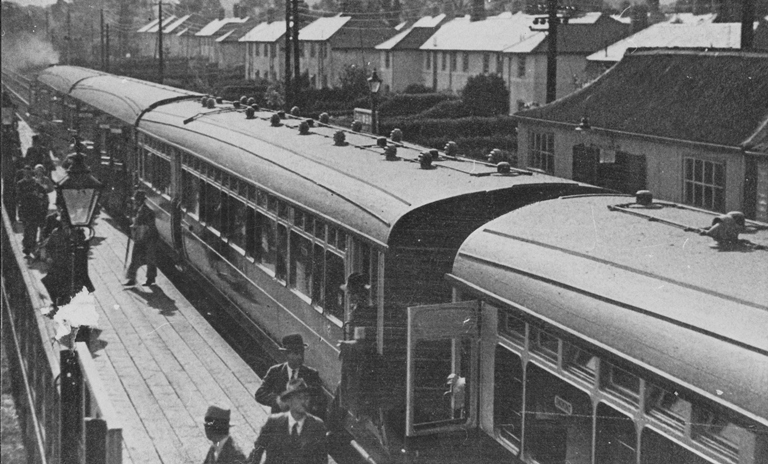 by Gareth Neale

cardiff railways
That was the original name proposed by the Cardiff Railway Company for the Halt they were going to build close to Beulah Chapel on the corner of Heol Rhyd y Walla (now known as Beulah Road). The little Group of cottages that existed in this location was known as Rhyd Nant y Walla (later transposed into Rhyd y Waedlwydd). Walla incidentally is the Norse word for Ford so we must have had Norse settlement here in Rhiwbina. There was another small group of Cottages together with the Farm in the area of the now Rhiwbina Reservoir that were known as Rhiwbrein in the Norman period. By the beginning of the 17th century this had become Rhiwbina or Rhubina. cardiff railways
The Railway Company intended to open their line, originally only intended to carry Coal from the Rhondda to Cardiff Docks, to passengers in 1910, but it failed a safety inspection. However, it was passed as suitable in early 1911 and started operations from the Parade in Cardiff to Rhydyfelin on March 1st 1911 stopping at The Heath, the now, more suitably named, Rhiwbina Halt, Whitchurch, Coryton, Tongwynlais, and Rhydyfelin
There were a few Edwardian Villas built close to Beulah Chapel in 1911, now converted to the shops on Heol y Deri, but there was no large scale plan. However, living in Woodhull House Rhiwbina was Professor H Stanley Jevons who had a great interest in Social Housing. With his own money he set up the Housing Reform Company and from that sprang early in 1912 the Cardiff Workers Cooperative Garden Village Society Ltd, with plans to create a Garden Village on the lines of Welwyn Garden City as advocated locally by Lord Howard of Llanelli and other forward looking Citizens.
A Committee of 8 was selected to look for potential sites and after looking at several locations they decided that 110 acres belonging to the Pentwyn Estate, north of the Railway line between Rhiwbina Halt and Whitchurch Station, was the preferred location.
Expressions of interest were invited in the local papers and in May 1912 a Public meeting was held with Mr J T Clatworthy as Chairman. This meeting agreed to raise a fund to Purchase of 10 acres at £200 per acre and to exercise an option on a further 20 acres at £220 per acre. This was achieved by the issue of Shares to prospective tenants, inviting investors to subscribe in 4 % stocks while the remainder would be obtained from the Public Works Loan Commissioners. It was also agreed to ask Mr Raymond Unwin, Britain's most eminent Town Planning Architect, to prepare a plan of the whole proposed Estate which he did.
In the Autumn of 1912 real work began and the first sod was dug on the 10 acre site where 34 houses, 22 3 bedroom houses in Y Groes for rent at 5/6d to 8/9d per week (26p to 33p) and 12 4 bedroom houses in Lon y Dail at annual rents of £28 to £45 per annum, were to be built. Spring 1913 saw building apace and on July 19th 1913 a formal ceremony was carried out on the Village Green (the Centre of Y Groes). The Earl of Plymouth unveiled the date panel on 7 Y Groes and Lady Howard unveiled the Sundial next door. The first House to be declared open by the Countess of Plymouth was No 5 Y Groes, with Mr Ben Thomas as the first tenant. Building continued during the 1914-1918 war, 18 houses by the Society in Lon Isa, 2 by Professor Jevons personally in Heol y Deri and 18 by Avery Tipping in Pomfrey Road (now Pen y Dre).
But in the autumn of 1914 the Society became insolvent and to make matters worse Professor Jevons left to take up a post in Allahabad. The Welsh Town Housing Trust, set up Lord David Davies, stepped in with financial support to build more houses here and also in the Garden Suburb Barry, where my Grandparents were the 2nd tenants on that estate, as well as in Newtown Montgomery. Houses were then built in Heol y Deri, Pen y Dre, Lon y Dail and Lon Isa. In 1920 the 1st lease of land for private development was given at 34 Pen y Dre and Rhiwbina as we now know it began to take shape. Further development up Heol y Deri took place in the 1920's as well as in the areas around Lon Y Deri and Porthamal Road.
The Railway line that in many ways was the catalyst for the founding of Rhiwbina played an important part in the lives of the residents as many used it to commute to their places of work particularly as Railway Staff, as Civil Servants or University Staff. In 1922 ownership of the Railway passed to the Great Western Railway. Â Whitchurch Station, which is of course actually in Rhiwbina, was enlarged and sidings were added in that year. In 1928 the Parade Station was closed and all trains went via Queen Street Station and in 1929 Birchgrove Halt was opened. Rhiwbina now had 3 Stations available to its residents within its Boundaries.
By the outbreak of the 2nd World War the centre of Rhiwbina was very much as it is today. The extensive Development as envisaged by Raymond Unwin never materialised and the final seal was set when the land designated for a duplicate of Y Groes was given to the Cardiff Rural District Council and opened as Parc y Pentre on April 1st 1961. The Local Authorities responsible for administering Rhiwbina were, at that time, the Cardiff R D C and Glamorgan County Council but in 1967 Rhiwbina was absorbed into the City of Cardiff despite strong local opposition. Our Parliamentary constituency until the General Election of 1974 was the Barry constituency when we became part of Cardiff North West later renamed Cardiff North.
Until 1976 the Garden Village houses remained under the ownership of the Garden Village Cooperative with rental as a basis and repairs and decorations being the responsibility of the Garden Village Limited Company.  In that year the houses were sold to the tenants and the houses were put into a Conservation Area with a supervising Committee selected by the residents together with the elected Cardiff City Councillors and the Planning Officer responsible for the Rhiwbina Ward. The Rhiwbina Ward then covered the  whole of Rhiwbina including Pantmawr and the Area down to St Thomas Church in Pantbach Rd including the houses behind the Monico Cinema (now flats) across to Manor Way and down as far and including Cae Maen . This southerly part of Rhiwbina was transferred into the Heath Ward in a general Ward redistribution in the 1980's.
In 2001 what was the Rhiwbina Garden Village Conservation Area Houses, with some additional adjacent houses, were listed by Cadw as Grade II in a wider resurvey of all listed Buildings in Cardiff. Cadw is responsible for protecting our Historic Environment so our Garden Village, a vision of just 8 ordinary Citizens, is regarded to be of National and International significance. Also from that Garden Village the rest of our delightful suburb was developed gradually over the years to be declared by Prince Charles 'as a Jewel in the crown of that beautiful City of Cardiff.'
Living Magazines will be celebrating the Rhiwbina's 100 year birthday with a Centenary Special Edition in March. Details here.