The beach is the ideal place to promote well-being at any time of year. Here's our top pick of beaches that are within driving distance of North Cardiff
Rhossili Bay, Gower
Rhossili Bay continues to rate among the best beaches in both Wales and the UK. In 2018, it was voted Wales' Best Beach and was 3rd in the UK in the TripAdvisor Travellers' Choice. It's also been described as 'the supermodel of British beaches' by The Independent.
Its three miles of sandy shores include Worm's Head, the famous landmark shaped like a giant sea-serpent. You'll find plenty of watersports here while the views are often best enjoyed from one of the many walking routes on offer.
If you're lucky, you may even get to see dolphins and seals at sea. At low tide, it is possible to see the remains of several shipwrecks, wood from the wreck of the Helvetia being the most prominent when looking north from Rhossili.
Barafundle Bay, Pembrokeshire
Voted many times as one of the best beaches in the UK, it's often been compared to more tropical places around the world.
It's a small, isolated beach that can only be reached via a half mile walk from the car park. It also has no facilities which means that it's untouched by commercialism. Its golden sands and pristine water earned it a Blue Flag and in 2004, it was listed as one of the Top 12 beaches in the world.
The beach is often visited by young families looking for an ideal place for the children to go paddling but if you are planning to visit, check out the tide times to make sure you've plenty of beach to play on and that you don't get cut off by the incoming tide.
Ogmore-by-Sea, Vale of Glamorgan
Ogmore-by-Sea lies east of the Ogmore River and at the western end of the Glamorgan Heritage Coast. Just like its equivalents in Cornwall, Ireland and Brittany, the west-facing beach and coast were notorious as a graveyard for ships during strong on-shore winds. Ships often came to their end on Tusker Rock, a reef that's covered at high tide. Metal corpses still litter this tiny island.
Today, Ogmore is popular with beach-lovers. The beach is sandy at low tide, backed by low cliffs which offer walking routes. There are also picnic areas nearby, toilets and often an ice-cream van.
Saundersfoot
Beach lovers have been visiting Saundersfoot for generations, drawn by its sandy beach and excellent facilities nearby.
It stretches half a mile facing south-east and has safe bathing facilities for the family with plenty of room, even at high tide. The harbour offers the opportunity to take fishing and sightseeing trips along the Pembrokeshire coastline.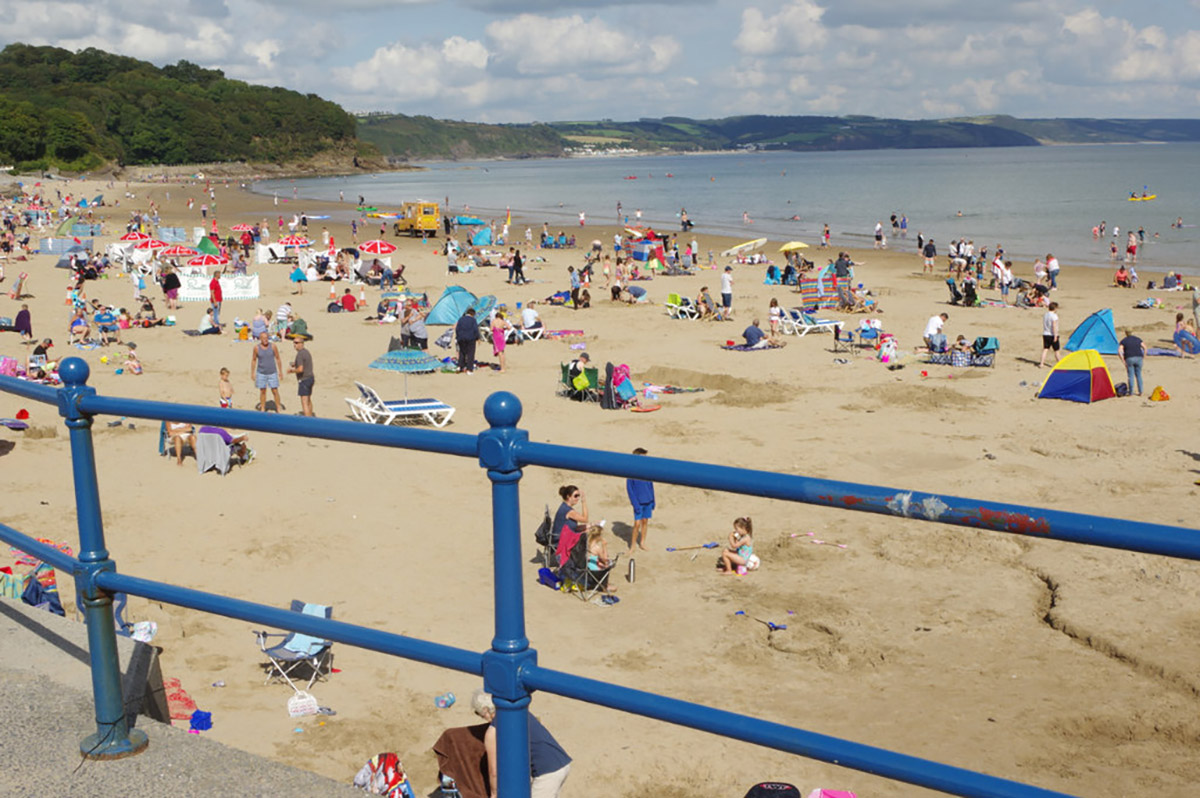 Around the beach lie plenty of pubs and cafés and there is ample parking along the harbour. Saundersfoot was designated a Conservation Area by the Pembrokeshire Coast National Park in 1995.
Nearby is Wisemans Bridge, a wide sand and pebble beach with rock pools, which can be accessed at low tide by walking along the beach from Saundersfoot.
Whitmore Bay, Vale of Glamorgan
Often referred to as its more popular name of Barry Island, Whitmore Bay is a beach for all seasons of the year.
Its sweeping crescent of golden sand is flanked by two headlands and overlooked by a wide promenade where there are plenty of facilities for food and drink. This Blue Flag beach is a small slice of Welsh paradise.
Dunraven Bay, Vale of Glamorgan
Loved by the locals, this beach is great if you're looking to take the kids on a fossil hunt. This beach boasts a wide bay, a car park and even a visitor centre.
Also known as Southerndown, the beach also has three walks available and if the tide is in, you can take the opportunity to visit the walled gardens and the ruins of Dunraven Castle, which was rebuilt as a castellated hunting lodge in the early 19th century and was extensively remodelled later in the century. The surviving parts of the house and its lands are Grade II listed buildings.
Llantwit Major, Vale of Glamorgan
Popular with families, the beach is comprised of sand and rock, and is best suited to those who like a bit of adventure, due to the slippery rocks.
There are plenty of rock pools when the tide goes out and you can often find crabs and other small creatures in them. Fossils can often be found in the rock strata that overlooks the beach, and there are views over to Somerset and Devon.
There is also a café, toilet facilities and a large car park.
Monknash, Vale of Glamorgan
Monknash Beach is a secluded beach with some sandy parts when the tide is out. The area includes Nash Point, a headland that is popular with ramblers. You'll also find Nash Point Lighthouse, a Grade II listed building, dating from 1831-32. The coast is an official Site of Special Scientific Interest.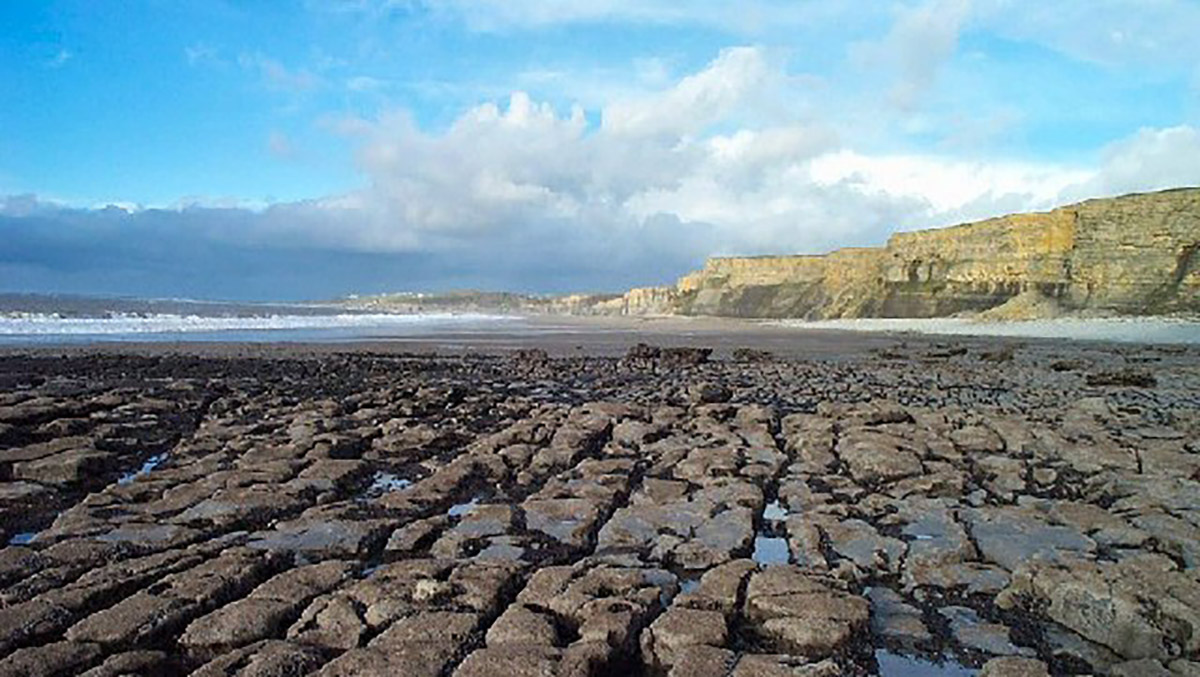 Just south of the village is the Plough and Harrow pub, where you can stop off for a spot of lunch.
Cold Knap, Vale of Glamorgan
If you're after something a little different, the pebbly beach at Cold Knap offers a wide and relatively quiet beach to spend an afternoon. There's a car park running along the back of the beach and you can also take a walk along the harp-shaped lake that sits behind it. There are even some Roman ruins to view.