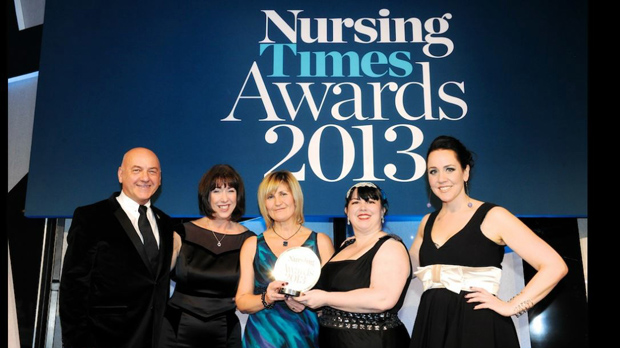 Velindre NHS Trust has won the 'Enhancing Patient Dignity Award' at the 2013 Nursing Times Awards.
The Nursing Times Awards are the most prestigious and coveted awards for the nursing profession. Representatives from Velindre Cancer Centre's Patient Dignity team collected the award at a glittering presentation ceremony at the Grosvenor House Hotel in London.
A 63-strong jury made up of senior and influential figures from the nursing profession decided to hand the award to the innovative multi-professional team in recognition of their work in promoting dignity and respectful care, nurturing principles of compassion for patients and their families.
The work of the Velindre team, which also involves patients and carers, includes the development of a 'STOP, LOOK, LISTEN' dignity code, a web page and a bi-annual newsletter sharing good practice. An existing electronic incident recording system was amended to include patient dignity concerns, which are brought to the dignity group for potential solutions to be identified, implemented and then used as case studies in for dignity awareness training sessions.
Dr Susan Morgan, Executive Director of Nursing and Service Improvement for Velindre NHS Trust, said: "I am very proud of the work that the multi-professional team are embedding in everyday practice to ensure the dignity of patients treated at Velindre Cancer Centre.
"It is wonderful that their achievements have been recognised by receiving such a prestigious award in a highly competitive category."
At this year's sell-out Nursing Times Awards event, there were a record number of entries and more than 1,000 nursing professionals in attendance.
Jenni Middleton, Editor of Nursing Times, said: "The winners of our Nursing Times Awards have shown that they are able to innovate to achieve better outcomes for patients. Their work is focused on doing things differently to enhance patient care, safety and experience. We receive a huge amount of entrants for these awards and to be shortlisted is a fantastic achievement, but to be chosen as a winner shows that you are at the top of your game and providing exceptional care."