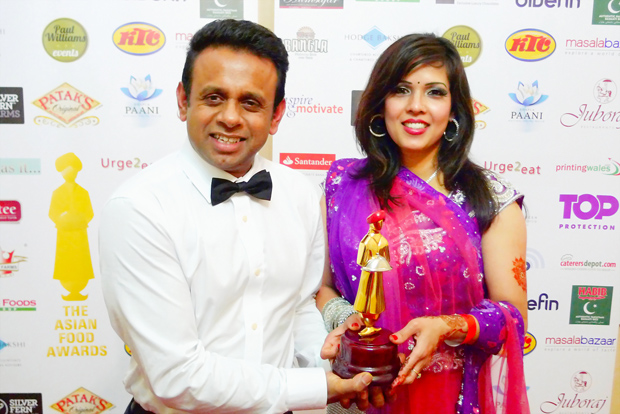 Rhiwbina's Rhiwbina's Gateway of India has won 'Best Indian Takeaway' at this year's prestigious Asian Food Awards.
Owner Moslaur Rahman told Living Magazines Cardiff:
"We are absolutely delighted to win this award. We work very hard to bring the finest food to the community and we'd like to thank everyone who supporting us at the these awards."
The Gateway of India offers a unique 'heat & eat' concept, that has been enticing an expanding following of foodies since they rolled it out in 1995. The freshly prepared, expertly cooked Indian cuisine dishes combine only the finest ingredients — and their signature blast-chill process will allow you to enjoy a deliciously nutritious meal at your leisure — making them the perfect choice for dinner parties and special soirées! If your eyes are bigger than your belly, then fret not, as their tantalizing tastes can also be saved for later or even frozen!
The Asian Food Award ceremony, which took place on 31st October, was held to recognise the finest Asian food establishments, culinary teams, and innovative ideas across Wales and the West.
Visit the Gateway's website here.
o o o o o o o o o o o o o o o o o o o o o o o o o o o o o o o o o o o o o o o o o o o o o o o o o o o o o o o o o o o o o o o o o o o o o o o o o o o o o o o o o o o o o o o o o o o o o o o o o o o o o o o o o o o o o o o o o o o o o o o o o o o o o o o o o o o o o o o o o o o o o o o o o o o o o o o o o o o o o o o o o o o o o o o o o o o o o o o o o o o o o o o o o o o o o o o o o o o o o o o o o o o o o o o o o o o o o o o o o o o o o o o o o o o o o o o o o o o o o o o o o o o o o o o o o o o o o o o o o o o o o o o o o o o o o o o o o o o o o o o o o o o o o o o o o o o o o o o o o o o o o o o o o o o o o o o o o o o o o o o o o o o o o o o o o o o o o o o o o o o o o o o o o o o o o o o o o o o o o o o o