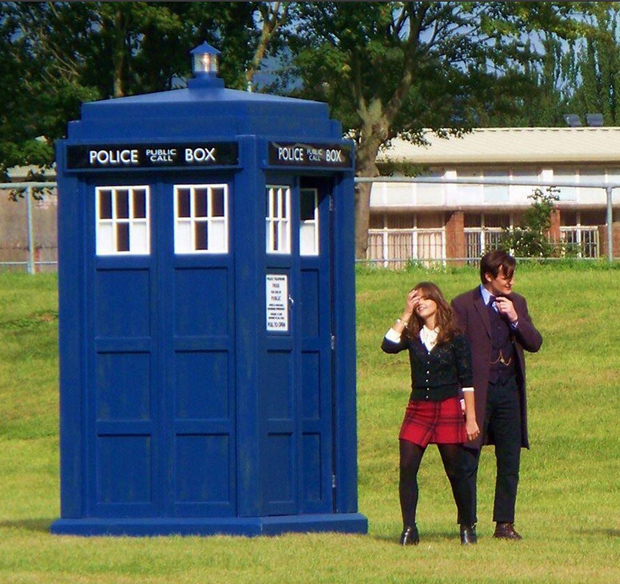 Dr Who star Matt Smith signed off from his time-travelling duties by recently filming his last episode in Gabalfa.
Sharp-eyed observers caught sight of the Doctor and his sidekick Clara Oswald, played by actress Jenna-Louise Coleman, outside Lydstep Flats.
The episode will be Smith's last one as the 11th Doctor and will feature as the Christmas Special for this year. The Thick of It star Peter Capaldi will make his first appearance in the same episode as Smith's successor, the 12th Time Lord.
Matt Smith had to wear a wig on set, having shaved his hair off for a role in Ryan Gosling's directorial debut.
At the recent GQ Men of the Year Awards, Smith lamented about his current hairpiece: "I cut my hair for a film, but it means I have to wear a wig in Doctor Who, which is a nightmare.
"It'll be sad – the end of a wonderful era!"
Matt Smith has played the part of Dr Who since 2010. The show, produced by BBC Wales, regularly uses Cardiff locations for its filming. Dr Who fan Dale Sharp told Living Magazines:
"It's great to have such an iconic show produced right here in Cardiff. My friend and I regularly keep tabs on the show's filming locations so that we can head down and get a look. Matt was great down at Lydstep Flats – he took time out after filming to chat to us fans and to sign autographs. I can't wait to see the episode in its entirety!"
Doctor Who will return to BBC One for its 50th anniversary special on Saturday, 23rd November.
Photo courtesy of Leanne Roberts