Roald Dahl spent his early childhood in Llandaff and Radyr. The Llandaff Society and the Radyr and Morganstown Society are celebrating 100 years of the world's greatest story-teller by publishing this walking trail, linking places with which he was associated
Ty Mynydd
The Dahl family lived here from 1917 to 1921 in what was then a large Victorian house on a 150 acre farm. Only the lodge remains – this is now a private house next to Maes yr Awel.
Postcode: CF15 8AF
Catch the bus to Park Road or walk for 1.5 miles along Heol Isaf to its junction with Llantrisant Road, turn left then first left into Danescourt Way. From the Blethin Close bus stop, walk towards the church via the footway in front of the Radyr Court Inn.
St John's Church, Danescourt

An impressive pink granite cross against the boundary wall marks the grave of Roald Dahl's half-sister Astri (d.1920); father Harald (1863-1921) and Sofie (d.1968). Postcode: CF5 2SH
Walk along the Radyr Court Inn, turning right along Danescourt Way down to the roundabout. Turn left, passing the petrol station and head down Llantrisant Road (1.5 miles). Along this road, Roald Dahl's De Dion Bouton car crashed. Roald's nose was severed and had to be stitched back.
After the junction with Gillian Road, turn right onto the public footpath. At its junction with Fairwater Road, cross the road and continue for 200 yards down Fairwater Road. Ty Gwyn (Villa Marie) will be on your right.
Ty Gwyn (Villa Marie)
Roald Dahl was born in this house on 13th September 1916. The Dahl family lived there from 1907 to 1917. The house was known then as 'Villa Marie'. Postcode: CF5 2LE
Retrace your steps and bear right for half a mile on Fairwater Road to its junction with Cardiff Road. The site of the former Llandaff Cathedral School is on your left. Continue across into Heol y Pavin until you reach the Cathedral Green.
Llandaff Cathedral Green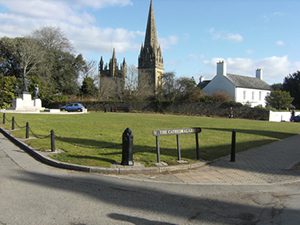 Roald Dahl attended the Cathedral School from the age of seven. The Llandaff Cathedral School is now on the Cardiff Road/Western Avenue junction, but when he was a pupil, it was housed in a substantial stone building overlooking The Green. The site is now a close of houses known as 'The Cathedral Green'.
Postcode: CF5 2EB
Walk across The Green, past The Cross and the Bishop's Palace, turning right into High Street. 25 yards on your left is Mrs Pratchett's Sweet Shop.
Mrs Pratchett's Sweet Shop
The 'Great Wall' Chinese takeaway was the site of the sweet shop which features in Roald Dahl's story 'The Great Mouse Plot'. This was based on an incident that happened at his Preparatory School. The property is now a private residence. Postcode: CF5 2DX
Turn left into Chapel Street, left into Cardiff Road for 50 yards and cross Western Avenue. Walk along Palace Road past its junction with Howell's Crescent to the house that used to be Elm Tree House School.
Elm Tree School House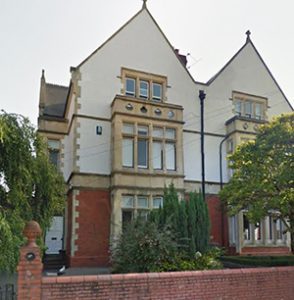 27 Palace Road: Roald Dahl sped to his Preparatory School on his tricycle via Howell's Crescent when living at Cumberland Lodge. The former school has now reverted to its previous use as a private house (please respect the occupants' privacy). Postcode: CF5 2AG
Turn into Howell's Crescent with Cardiff Road and turn right. Cumberland Lodge is the second house on the right.
Cumberland Lodge
The Dahl family lived here after Harald died, from 1921 to 1929. The Lodge is now the Howell's School Nursery and Infants School.
The trail ends here. Postcode: CF5 2YD
All distances are approximate. Routes used are public footways. No responsibility can be taken for any accidents incurred by those following this trail.
OTHER PLACES:
Norwegian Church – Harbour Drive, Cardiff Bay, CF10 4PA
This church now overlooks the Inner Harbour but in Roald's time, was in its original location overlooking the southern entrance to Bute East Dock. The Dahl family worshipped here with others from the Norwegian community. Roald was baptised here.
Aadnesson & Dahl – Pier Head Chambers, 3 Bute Street (now Mermaid Quay) CF10 5BZ
Harald Dahl moved to the UK in 1900, setting up a business with Ludwig Aadnesson in the then bustling Butetown as ship brokers. They imported timber in the form of pit props from Norway and exported coal. He moved to Llandaff in 1907.
Public Transport
BUS: Take the Cardiff Bus No.63 (Mon-Sun) to Park Road, Radyr to start your walk OR
TRAIN: (Mon-Sun) from Cardiff Central Station or Pontypridd to Radyr Station.
Return to city centre via Bus Nos: 24,62,63,66 or Stagecoach 122 or 124 or Bus: 63 back to Radyr Station
The Roald Dahl Trail is published by The Llandaff Society and Radyr and Morganstown Association (both affiliated to Civic Trust Cymru). Copyright March 2016.
Living Magazines is grateful to both in allowing us to publish this trail.