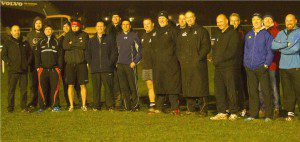 Rhiwbina RFC senior coaches Jared Lougher and Gareth Lintern recently delivered another coach the coach masterclass with mini and junior team coaches and managers.
Rhiwbina RFC, through the two senior coaches, have put in place a coach development plan to support and develop all coaches at all age groups throughout the club to reach their potential. The two senior coaches have followed on from their theory workshop on Long Term Athlete Development(LTAD) that was delivered in October with a practical session which 17 coaches from across the club attended in February at Cadelyn Park.
This time the session was of a practical nature involving the Rhiwbina Under16's squad. The session reinforced the LTAD and physical literacy principles of development, where all coaches were given a live demonstration of coaching sessions suitable to all age groups.
These masterclasses are part of the long term development plan of Rhiwbina RFC to ensure that we have high and consistent levels of caching and player support, ensuring players reach their potential, enjoy the game and develop through the ranks to senior rugby.