In 2010, Living Magazines posted this story:
A history enthusiast from North Cardiff is seeking help in tracking down the owner of a 60 year old locket found in a field.
Alex Kemp from Llandaff North, found the locket while metal detecting in fields close to a Rhiwbina farm.
"I was recently detecting some fields. I had a good signal and came across a silver brooch. It had a floral design and was inscribed with the words:
'Presented to the Queen, Rhiwbina Fete 1950'. About a foot away, I found another signal and found a tiny shield which I presumed was part of the brooch as it fitted in the middle perfectly. The hallmarks indicate the brooch was made in Birmingham in 1947."
Alex attended Rhiwbina Junior School as a child, and attended many fetes at that time.
"On the shield, there appear to be some letters roughly scratched into the surface – it reads LB or 2B. I am not sure if they are initials or a class number. Presuming the Fete Queen was about 16 at the time, then she would be about 76 now. It would mean a great deal to me if I could re-unite the brooch with the 'queen' or the queen's family."
And in 2015, we received this letter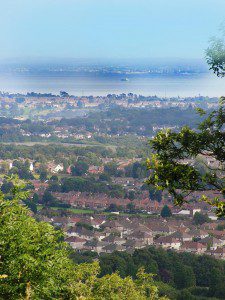 I was thrilled to receive the silver brooch and felt it was very fitting that it should be found beneath the earth on my favourite walk. For it was on Wenallt Hill that I walked alone for a part of each weekend from the age of 12 years to 30.
I would sit on the top of the Wenallt finding peace and solace as I gazed across Cardiff to the sea in the bay beyond. It was both peaceful and exciting, especially when I heard the ship's foghorns at night. I loved the sound of the foghorns and loved the sea. I would spend frequent Fridays after school (Penarth Grammar) walking to the sea front and cliff walk in Penarth.
Sadly, after 30 years in Rhiwbina, my parents retired to the place of their birth- Shrewsbury. So I decided to take a job teaching French in Bermuda – drawn to the island by the sea.
After two years, I returned to Britain and met and married a man who decided after 14 months, to sell his company and buy a catamaran. So we sailed, together with our tiny four month old daughter Holly, around the Mediterranean, across the Atlantic Ocean and on through the Caribbean to Florida. We sailed around the islands near Florida for two years and then set sail for home, returning across the Atlantic to the Scilly Isles and then on to Falmouth, where the boat was sold after almost four years at sea.
Within a year, we had our second daughter, Rebekah, who at the age of 30 years, produced our one and only adorable grandchild – India Rose. What is so amazing is that India (now aged 4 years) insists on keeping a photo of a yacht in the centre of their dining table. So it may be that my dreams on Wenallt Hill will continue with our dear little granddaughter, who has an affinity with the sea.
I really want to thank you so much for the silver brooch, which has brought back so many happy memories.
ANN KYNASTON-WEAVER
(AKA The Queen!)
Leighton Buzzard