Bonfire Night is a typically British affair. Time to wrap up against the cold, get some warming food on and enjoy the fireworks
The Party
If you are planning a traditional Bonfire Night party, it goes without saying that safety has to come first. But with some good planning and some preparation, you can enjoy a great Bonfire Night party like the ones you used to have as a kid.
Fireworks are there to entertain so you may want to put a little bit of thought into your firework display. If you've got a good selection of fireworks, consider adding variety to your display. You don't want to go setting off all your rockets in one go or all the mines at the same time. Mix things up a little bit to keep your guests guessing!
If you are wanting a traditional bonfire, make sure you site it away from trees, shrubs and overhanging branches. You must always check the bonfire before lighting it to make sure that no animals or children have crept inside.
Once lit, make sure that you keep a close eye on the fire to ensure that it doesn't go out of control.
Traditionally, children used to make their own effigies of Guy Fawkes for Bonfire Night. They would then take these 'Guys' around the local streets and collect 'pennies for the Guy' so they had money to buy fireworks.
The custom has largely vanished these days but it's still a great daytime activity to keep the kids happy while they wait for the dark. You can make your own 'Guy' from old clothes, newspaper and straw. These would usually be hung on an old broom and often the Guy would have an old Halloween mask for a face.
Chestnuts can be found in abundance throughout the autumn. They can also provide another time-honoured Bonfire Night custom – roasted chestnuts. Use a small knife to cut a cross into the skin of each chestnut. Place them in a roasting tin and into an oven (preheated to 200°c) and bake for around 30 minutes, until the skins open and the insides are tender. Serve them in paper bags.
Firework Safety
On the night, you'll need:
• A torch
• Tapers
• A bucket or two of water
• Eye protection and gloves
• A bucket of soft earth to put fireworks in
• Suitable supports and launchers if you're setting off Catherine wheels or rockets
• First Aid kit
• A closed box, preferably metal, to keep the fireworks in
Sparkler safety:
Sparklers can get five times hotter than cooking oil – so should never be given to a child under five. Place them in a bucket of water as soon as they finish.
Sticky Cider Sausage Burgers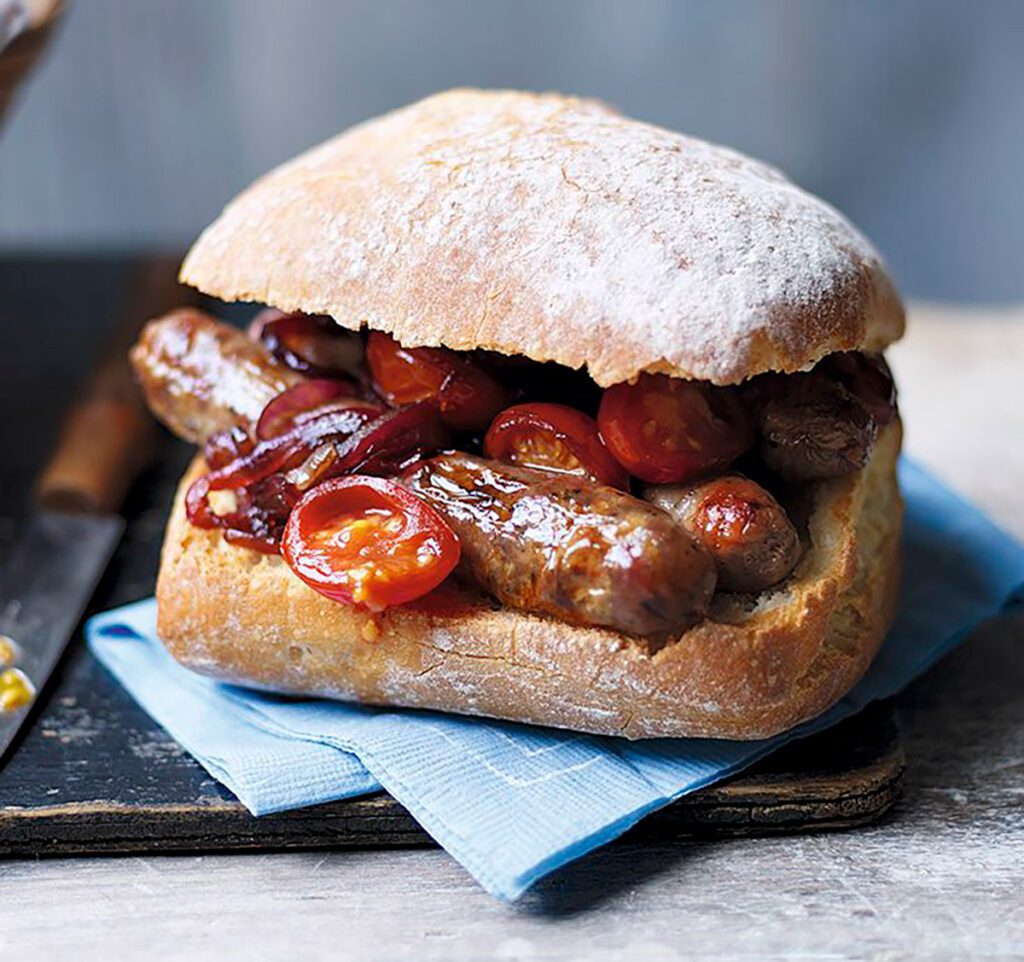 Bonfire Night isn't Bonfire Night without sausages or burgers. You'll need 800g echalion shallots, 200ml (1/3pt) English cider, 2 tbsp honey, 2 tsp wholegrain mustard, 12 sausages (meat or meat-free), 2 ciabattas, split lengthways and cut into thirds.
Preheat the oven to gas 5, 190°C, fan 170°C. Place the shallots in an ovenproof dish, sprinkle with 2 tablespoons of water, cover them with foil and roast for 1 hour. Set them aside and leave them to cool. Put the honey, cider and mustard in a small saucepan and simmer for 15 minutes. The mixture should reduce by about two-thirds. Put the sausages in a roasting tin and cook for 10 minutes, then coat them with half the glaze and pop them back into the oven to cook for a further 10 minutes. Squeeze the cooked shallots out of their skins, chop and then stir in with the sausages. Glaze the sausages again, then return the tin to the oven for 5-10 minutes until everything is golden. Warm the ciabattas, fill with sausages and serve.
Warm Pumpkin Soup
If you want something to warm up your hands and your belly, you can't go wrong with spicy pumpkin soup, especially if you have some leftovers from Halloween. Boil the pumpkin flesh until it's tender. Chop and de-seed a medium red chilli and pop it into a blender with a small handful of coriander leaves, two chopped garlic cloves and some salt and pepper. Give the mixture a good whizz in the blender before adding the pumpkin flesh and whizzing that. Add everything to a pan with a can of coconut milk and bring to a simmer. Serve in small scooped out pumpkins.
Garlic Parmesan Bread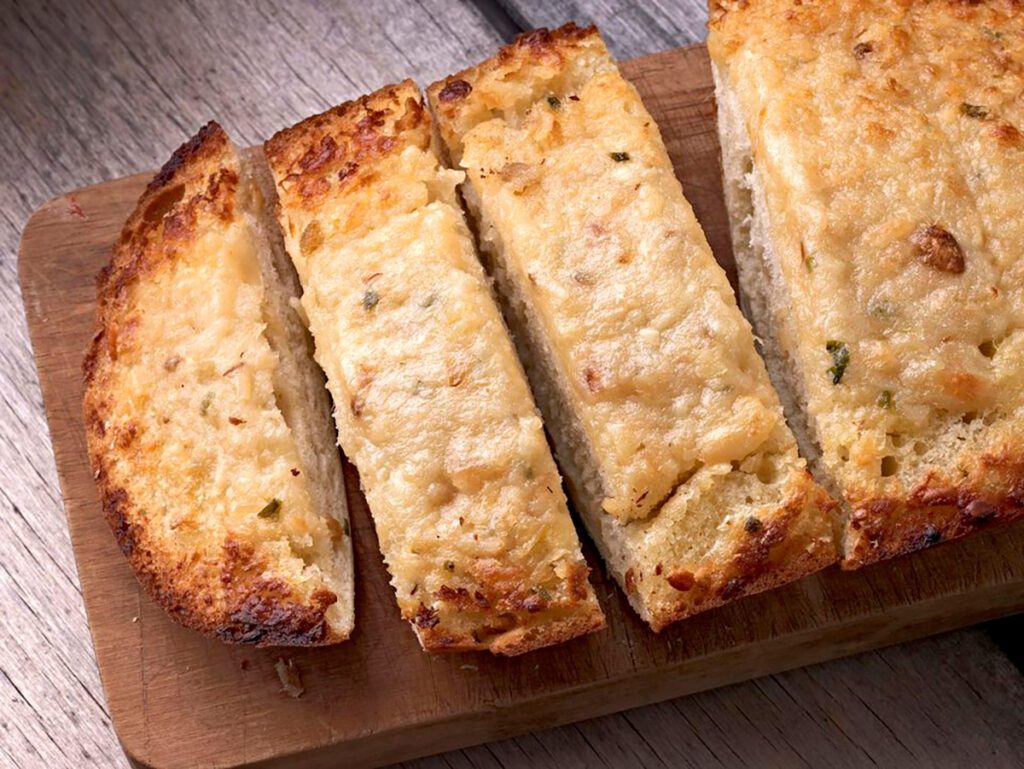 These bites are really easy to rustle up and can be prepared, cooked and eaten within a matter of minutes. What's more – they are absolutely delicious!
In a small bowl, combine butter with some freshly crushed garlic, some salt and some chopped parsley. Spread the butter mixture on pieces of Italian bread and sprinkle with Parmesan cheese.
Place each piece of bread under the grill until it's golden brown – about 2-4 minutes.
Toffee Apples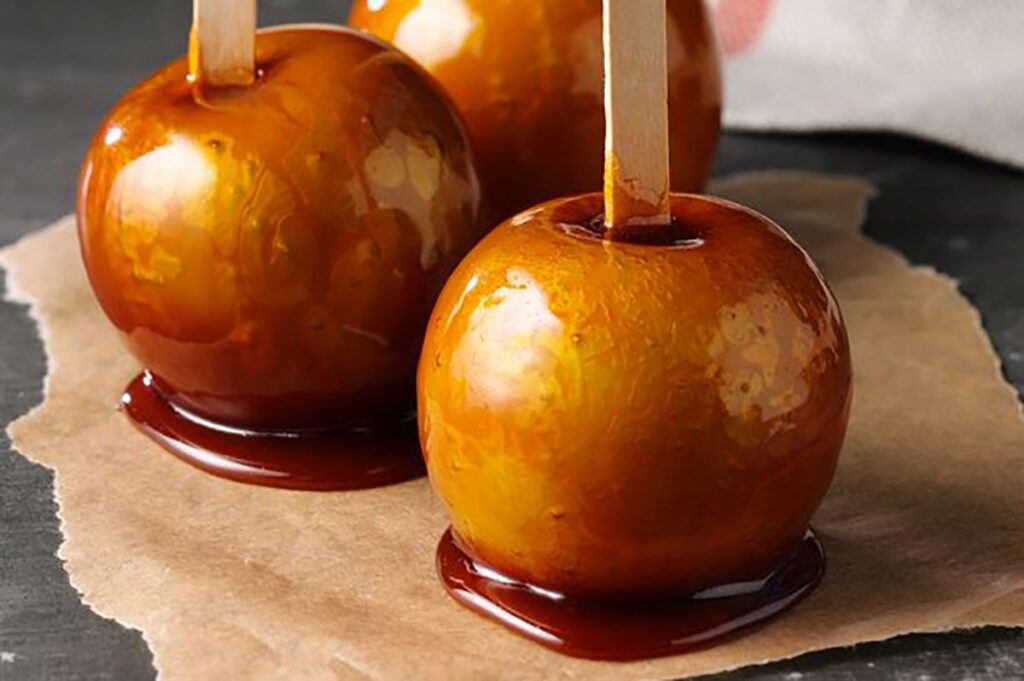 Take eight Granny Smith apples and boil them in water to remove the waxy covering. Then lay them on parchment paper. Tip 400g golden caster sugar into a pan along with 100ml water and set over a medium heat. Cook for 5 minutes until the sugar dissolves, then stir in the vinegar and syrup. Set a sugar thermometer in the pan and boil to 150°C. Carefully dip each apple in the hot toffee until covered, then place on the baking parchment to dry and harden.
Ultimate Hot Chocolate
450ml whole milk
70g 70% cocoa chocolate, finely chopped or grated
30g good-quality milk chocolate, finely chopped or grated
75ml single cream
¼ tsp ground cinnamon
Pinch of salt
Warm about 150ml milk in a pan over a medium heat and stir in the chocolate. Continue to stir until the chocolate has melted into the milk, then whisk in the remaining milk and the cream. Continue to heat until the mixture is hot, but not boiling, then add the cinnamon and a pinch of salt. Taste, adjust if necessary, and serve. Whisk vigorously just before pouring. Add marshmallows or brandy.