Celebrating their 10th year in Rhiwbina, Edwards & Co. have gone from strength to strength, changing the perception of the estate agent industry 'one sale at a time'. Owners Simon and Lisa Edwards look back at their decade in the village
Every once in a while, a business becomes synonymous with the area in which it works. Although some thought them 'crazy' to do so, Simon and Lisa Edwards opened their Rhiwbina office during the last recession and since then, they haven't looked back. Rhiwbina-based, they are also Rhiwbina through and through.
"I was born and bred here in Rhiwbina," says Simon. "My Mum, Dad and family still live here and I went to Rhiwbeina Primary."
The pair met while Simon, a retired Police Officer, was working in Cardiff city centre over 23 years ago.
"We met on the high street where I was working," says Lisa, a former senior retail manager. "I was opening a new store and helping unload a van with my team of girls outside when Simon and his colleague walked past," she adds.
"My girls started wolf-whistling at the rather red-faced officers and after they had all got talking, my assistant manager told me that she'd invited them to visit the new shop the following day for a coffee. They did, we met and that was it. We've never looked back."
Lisa's background in retail would go on to benefit Edwards & Co. years later.
"I started my working life helping out in markets when I was 13. I was bitten by the retail bug and eventually progressed through to become a General Manager," says Lisa. "I opened the first TK Maxx in Wales and had over 100 staff and five managers working for me. I've always successfully run other people's retail businesses for them but was adamant that one day I would do this for myself."
Simon actually took early retirement from the Police in 2002, following an accident.
"We decided that as we both had a passion for property and a will to succeed and to stand on our own two feet, we would set up on our own," says Lisa.
"The real catalyst for opening Edwards and Co. was the unsatisfactory experience we received from the estate agency industry after we moved back to live in the Rhiwbina area in the 1990s," she adds.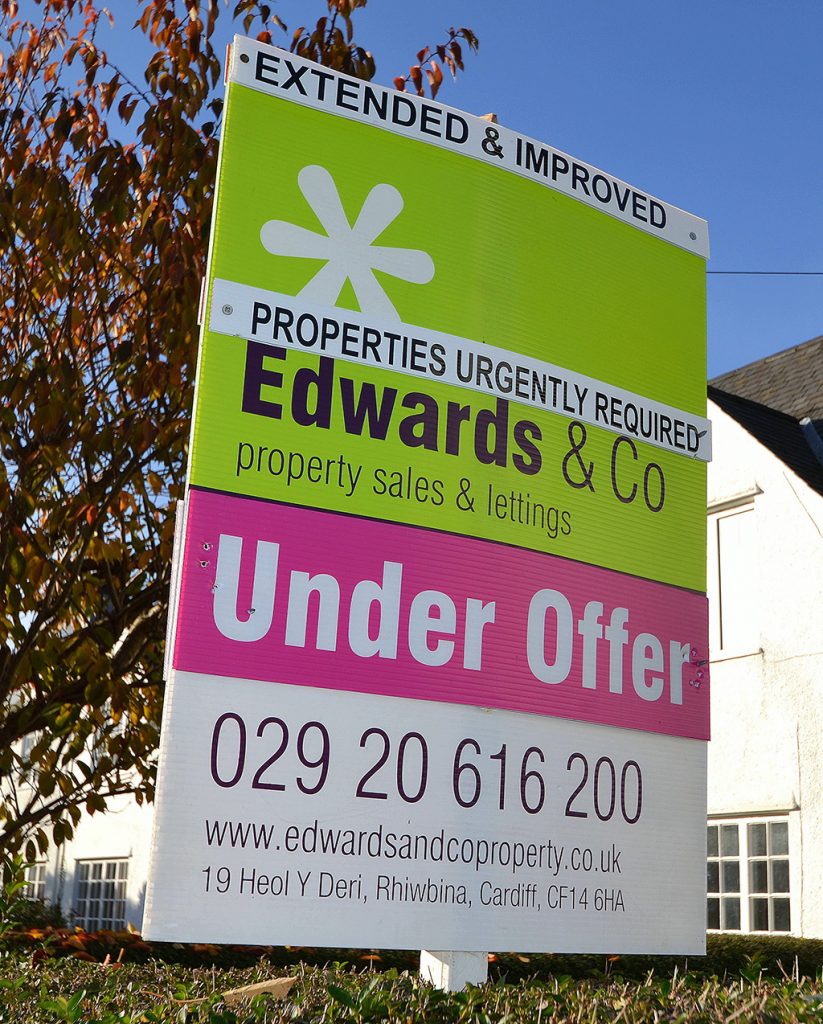 "We were so disgruntled about the way that estate agents in general were treating us. Before we moved back to Rhiwbina on a permanent basis, we'd moved around a lot and had used a number of different agents to buy and sell. We never went back to the same agent twice however, and we thought 'we could do better than this'. I'm a business retail manager and we know that in business, it's all about the people."
After much deliberation, training and accreditation, the couple decided to set up on their own.
"We'd been buying and selling, renting and renovating and even building our own properties for many years so we knew we had enough background knowledge in the industry to do it," says Simon. A chance meeting led to Simon and Lisa taking over the property management of one of Cardiff's largest independent landlords at the time, and literally turned around their business in a very short period of time.
Ultimately, it was to sow the seed for bigger and better things.
"Although officially starting out in the industry in 2004, it was during the crash of 2008/09 that we opened our first high street agency – a time when many similar businesses were closing down. We opened in the middle of a recession! Our doors opened here in our Rhiwbina office on the 5th November and we were just lucky that this fantastic unit was available," says Simon.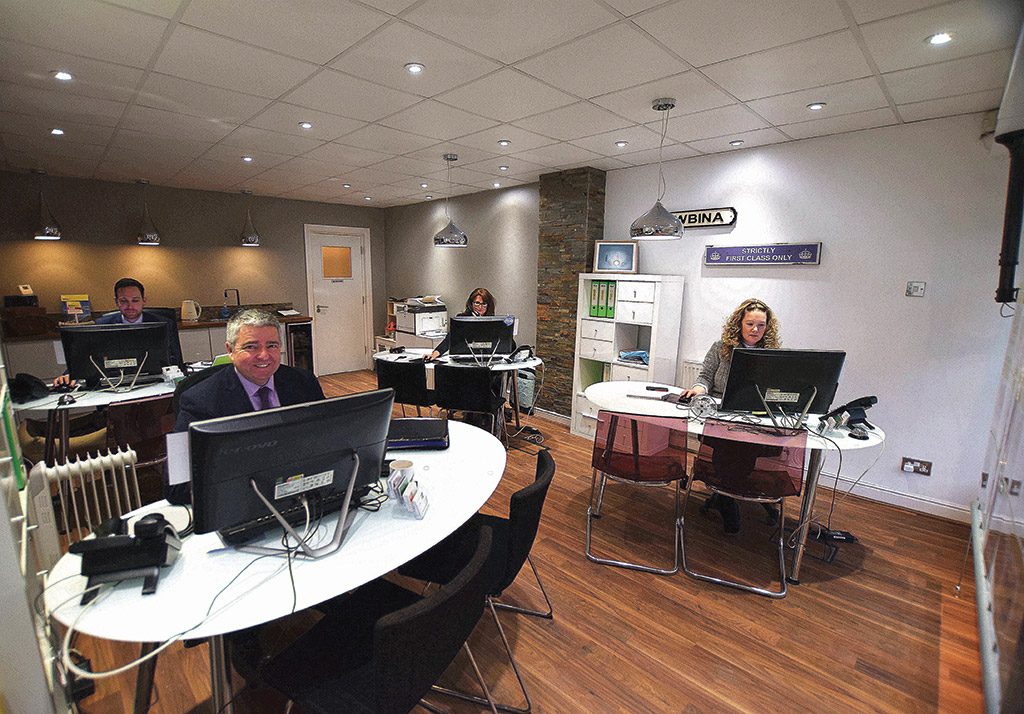 Perhaps the secret to Edwards & Co.'s success is that fact that they aren't your average 'run-of-the-mill estate agents'. From the ground up, everything has been built around the vendor.
"Virtually all of our team here are retailers and managers from the high street," says Lisa. "We always said that we'd never recruit from another agent at the time because we wanted to be organic and not inherit other agents' ways. We set out to, and soon realised that we could, do things differently here.
"We also had our daughter, Bethan, around the same time that we opened and it made us realise that we definitely had to make a success of it. It put everything into perspective and she's been our main motivator to succeed," adds Simon.
"When she was just 4, she was here after hours and the phone rang and, before we could answer it ourselves, she picked up the phone and said 'Good afternoon, Edwards and Co., how can I help?'. Seems it runs in the family!"
"We're proud to stand out from the crowd," says Lisa "We were invited to a Rightmove conference in Birmingham recently (as it happens as the only Cardiff Agent) that centred on 'making your mark and therefore winning instructions'. We were the only ones there in smart jeans and jackets, and open neck shirts, engaging enthusiastically with everyone. We were also the only husband and wife team in attendance. Everyone else wore their generic 'Estate Agency Issue' shiny blue suits, big ties and their hair gelled back. During the conference, the Rightmove CEO actually addressed the attendees and asked 'Why do you all have to dress like, use the same language as, and look like every other estate agent?'. He then commented 'That's with the exception of Lisa and Simon of Edwards & Co. Cardiff – they are the only ones that I will remember after today!'
"We will improve the way that this industry operates one sale at a time," continues Simon. "The way that people buy and sell houses has to change. We're working for the people who are selling their houses and that's where our priority lies. We listen to what they've got to say and aren't necessarily guided by what a buyer wants to pay.
"We have a very tried, tested and trusted guide pricing system, unlike the majority of agents' old-school 'offers in the region of'. We've got an exceptional team of 15 experienced professionals which allows us to provide a great service – our team here are just amazing!"
Underlying the business is a solid work ethic:
"It's not just about the houses. It's about the people, simple as that," says Lisa.
Edwards and Co. have also embraced Rhiwbina's community life to the full. From sponsoring the main stage at the Summer Festival to donating to and initially organising the installation of the Christmas lights in 2013, the emphasis has always been on integrating with the people and getting things done.
"Getting the Christmas lights up was a story and half. We'd finally got the go-ahead from the Council and had been around the village, badgering the businesses to source funding. When, eventually, the money was raised and the lights were installed, we managed to contact our local legend Sam Warburton to see if he'd do the honour of turning them on for the very first time. He agreed without question, coming straight from training and didn't leave for hours afterwards until he'd had his photo taken with everyone who wanted it. The village was rammed!
"In addition to sponsoring the stage at the Summer Festival, we always give prizes for raffles. On Bonfire Night, we supply the tea and coffee for Whitchurch Fire Station and Lisa, myself and as many of the team as possible go over to help serve and raise money for the local charities," adds Simon.
The business also runs the popular Edwards and Co. Neighbourhood Watch Facebook page (with over 1,700 followers) and this has also been very well received within the community.
"We share this high street with some fantastic businesses and we're all doing our bit to make Rhiwbina a better place in which to live and work. Most importantly, we genuinely enjoy what we do here," says Simon.
Looking to the future, Edwards & Co. will continue to prioritise the vendor.
"Our team are retailers so they don't just show interested parties around a house, they'll always look to sell the virtues of it and the area in which it is located," says Lisa.
"Honesty and integrity are foremost. We don't overvalue just to win an instruction. We discuss what we believe is the best achievable price, and we give the vendor the full information and market statistics so that they can make an informed decision.
"We all work together as a team to keep the communication going at all times and to make sure that buyers are also looked after. We also ensure that everything is put in place quickly to limit the time the transaction takes. Our reputation is vital and we rely on recommendations. In terms of statistics, we're now No. 1 across this area for the whole of the past year for new instructions and sales agreed, something we have worked long and hard to achieve. We must be doing something right!" beams Simon.
"We didn't set out for global domination," he adds. "Our main mission was to be successful in our area and look after our clients.
We'd genuinely like to thank the people of Rhiwbina for their support in the last 10 years and for putting us where we are today – we really are very grateful. Thank you all so much once again!"
If you would like any assistance with buying, selling or renting and would like to organise a free, no obligation appraisal, call the team on 02920 616200 or visit www.edwardsandcoproperty.co.uk