He grew up playing for Rhiwbina Squirrels. But in his late teens, he broke away from the union game to play rugby league. This year, he captains Wales in their World Cup qualifiers
"My dad used to be the captain of Rhiwbina Squirrels. He was the one that got me into rugby union from a young age."
Elliot Kear has come a long way since his playing days on Caedelyn Park. Not only does he play for the London Broncos, he's been made captain for the Wales team that will be aiming to make the Rugby League World Cup Finals in 2021. The boy from Whitchurch has become the leader of a nation.
"I grew up on the Philog until the age of 16 when we all moved up to Whitworth Square at the top of Whitchurch. We were the first people to move in there! Dad played rugby and coached the game after he stopped playing. I lived in a very rugby-orientated family and Dad would take me and my brother Scott to the grounds of Whitchurch Hospital where we'd practice our goal-kicking when we were kids.
"At the age of 10 or 11, I played rugby union for Llandaff North. I then represented Cardiff Counties throughout high school. My problem was that I was quite small and after a while, I was dropped from the team. I still played school rugby up until the Sixth form but I was playing with some pretty good players so it was hard to make an impression."
Elliot was in the same year as Sam Warburton, who of course, went on to cement his place in rugby history, both with Wales and the British and Irish Lions.
"Gareth Bale was in the same year too. It was a pretty good year as far as sport went! Our rugby team was particularly strong and in Sixth Form; we won the equivalent of the Welsh Cup.
"There was Mr Morris and Mr Williams who'd coach us and we'd have training early on Wednesday mornings before school. The school and us as individuals had a big passion for sport. I still maintain good links with the school and pop in whenever I can. I've also donated a few jerseys."
Although rugby union was the choice for many students, it was in rugby league that Elliot was to make a name for himself.
"Towards the end of my time at Whitchurch High, myself and a few of the lads were told about some open trials for the U18 rugby league. We went along and got involved and things went from there. It was, and still is, a fast-paced game and because we were smaller than some of the lads who were getting bigger for union, we slotted in well. We did a tour of Scotland and Ireland and beat them, losing only to England. At that time, the Celtic Crusaders were moving up the league and they started an academy which I got involved with."
Founded as Celtic Crusaders in 2005 initially based in Bridgend, the Crusaders played for six seasons in the Rugby Football League competitions, including three years in the Super League.
"While we were there, six of the team's Australian players were sent home after the club was found to have broken visa rules. It was quite a big thing in the media at the time."
The UK Border Agency had found that the six players, who included the club captain, Jace van Dijk, and their record try-scorer, Tony Duggan, played illegally under working holiday or student visas at various stages between 2006 and 2008. The Crusaders had been building on a successful application for a Super League licence. It was the break that Elliot needed.
"It all sort of fell into place from there. It was sad news for the players sent home but ultimately, it was good news for myself and a few of the other Welsh players as it gave us the chance to play more. Lloyd White, who hails from Llanrumney and now plays at Widnes was also one of those who benefited from the deportations."
Elliot made his Super League debut on 22nd August 2009 at Rodney Parade in Newport against Leeds Rhinos.
"I remember getting the call a week ahead of the game. I was in town shopping with a mate when my phone rang. I was told that I may need to play for the Crusaders that coming weekend. I trained all week with them and as it happened, I was selected."
He was named Man of the Match after making several fine try-saving tackles against the eventual Super League champions. He also played in Celtic Crusaders' final two games of the season against Huddersfield Giants, and Castleford Tigers. In October 2009, Elliot signed his first professional contract at Celtic Crusaders for the 2010 season, hoping to cement his place as the first choice full back at the club, under new head coach Brian Noble.
2009 also saw Elliot pick up his first international cap for Wales, starting as a full-back against England in October that year. He scored his first try for Wales a week later when they beat Serbia 88-8 in a European Cup game. He scored again the following week against Ireland and again against Scotland in the final, where he was voted Man of the Match. Wales beat Scotland 28-16.
From 2012-2014, Elliot played for Bradford Bulls before switching back to rugby union for London Welsh for the 2014/15 season.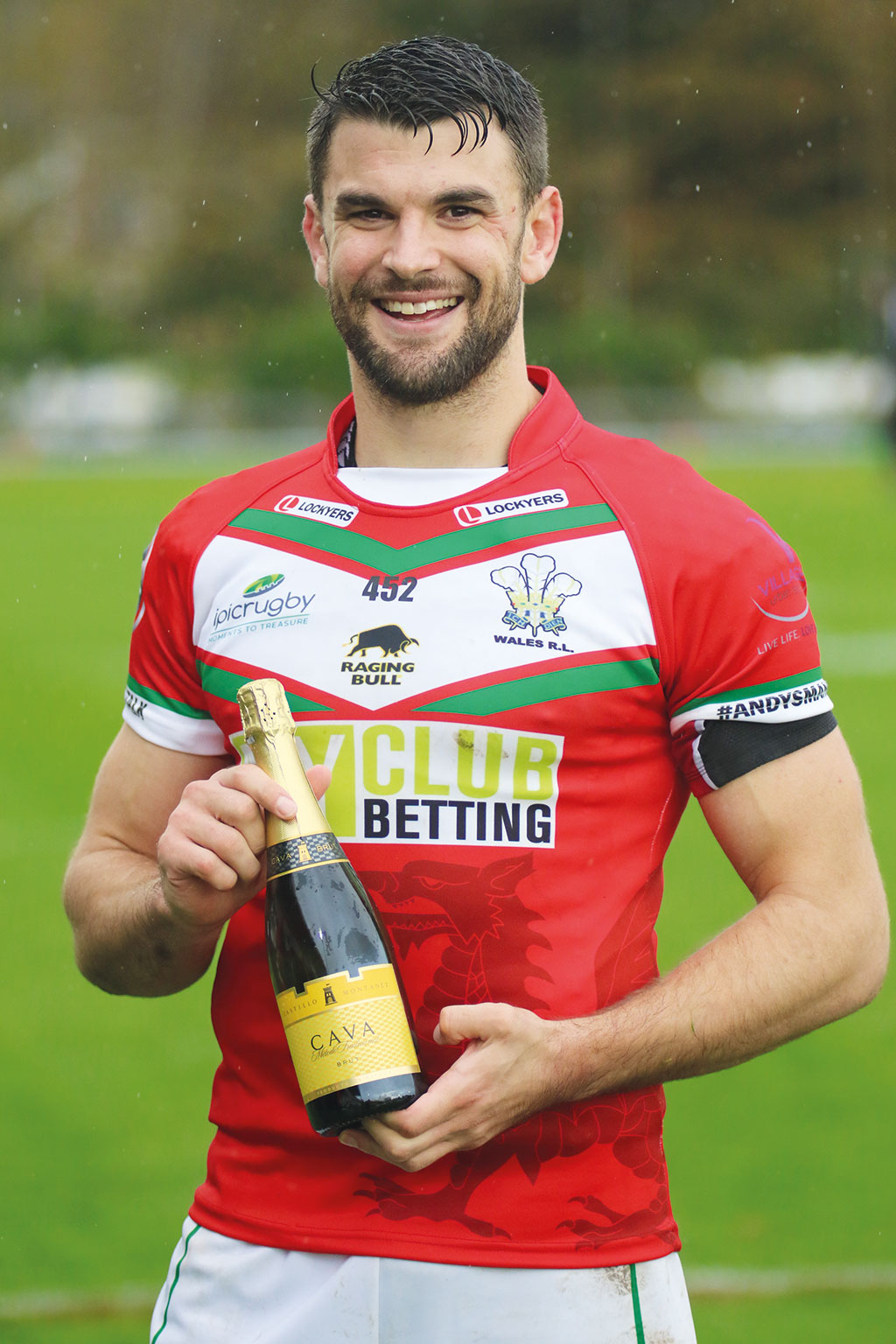 "I'd always wanted to try my hand at union and as Bradford were being relegated, it felt like the right time for me to try it," says Elliot. "I enjoyed doing it but league suited me better because of my build."
Elliot then joined rugby league's London Broncos in 2015, where he still plays today. His international career for Wales has also gone well. A vice-captain at the 2017 World Cup, Elliot has scored 11 tries in 24 appearances for Wales, making him the joint-fifth most capped player of all time.
In September last year, he was named as the new Welsh captain.
"Being picked as a captain is a huge honour. I was vice-captain at the World Cup last year and the talk was of me looking to move up to captain. I never took it for granted though and the phone was very quiet over the summer. Eventually though, I got the call. After the news was announced, Mr Morris from WHS rang me to congratulate me."
Elliot takes the captaincy after Craig Kopczak retired from Test rugby in May to focus on his club career at Salford.
"The World Cup is what we are working towards. We need a good start to the campaign. We also need to have all our best players fit and playing well as Wales doesn't have a lot of players in depth when it comes to rugby league. We need to build some good strength and if we can do that, then I'd like to think that we've got a good chance of qualifying.
"If we're good enough to get to the World Cup Finals, we'd be targeting getting some wins under our belt and to get out of the group stages. But all that is a long way off and we need to focus on this year's games first."
In this year's European Championship, the top two will automatically qualify for the 2021 World Cup.
And there is hope. Elliot has played some of the best teams in the world.
"For me, the biggest game I was involved with was against Australia up at the Racecourse in Wrexham."
The game was part of what was called the Four Nations tournament in 2011, which replaced the previous Tri-Nations format by including a fourth nation that qualifies by winning their respective regional competition in a rotation between Europe and the South Pacific.
"We were massive underdogs but I was fortunate enough to have scored that day against the best in the world. And we were beating them for the best part of half hour!
"There was also a game in France where we had 20,000 angry Frenchmen shouting at us – that was an experience! And to top it all, we played against New Zealand in a double bill at Wembley. England played Australia and although we lost our game, it's still nice to say that I've played at Wembley.
"Rugby has also brought me other happiness away from the game – I am engaged to my fiancée Natalie who I met while at Bradford and we have two children, Harrison who is three, and Darcie who is two."
Images: www.ianlovell.com