In the winter of 2015, 2nd Llandaff Scouts were facing the end of the line. The neighbouring church, of which the Scout Hall was a part, was put up for sale so they would have to leave. This is a story of a team of amazing people that saved the 2nd Llandaff Scouts
It's been a long, hard year and a half for 2nd Llandaff Scouts.
In November 2015, the scout group were contacted by the Christchurch Methodist/URC Church, who told them that they had a year to move out of their hall. This was a huge blow for the group, founded in 1925.
Assistant Group Scout Leader Abbie Gibbins, says the Scouts faced a huge challenge.
"December was a very busy month because we do Scout Post," says Abbie, "so we got together after that. We sat down and had a talk. Rather than accepting defeat, we came up with the idea of buying the church.
"We had a group meeting and decided that we were going to give it a go. We identified a few things that we thought that we could do. We knew that local fundraising was never going to be the answer as we knew we had to raise too much money. At the time, we came up with a target of £250,000."
Behind the scenes, the group split into separate teams, each with a specific task to concentrate on. There was a Grants Team, who wrote endless letters to organisations and bodies, and there was a Fundraising Team who focused on getting the vital funds in. The day-to-day running of the Scouts group was taken care of by the Support Group who ran the Scout programme.
"We decided to do Big Bob-A-Jobs. We identified a few companies who we knew would be receptive to us.
"We held our first cake sale at Eversheds and raised nearly £1,000!" Abbie smiles as she recalls how so many kids turned up on bikes with their rucksacks full of cakes to sell.
"We then held a raffle at Hamley's which raised £1,500, which is amazing for a raffle! Gareth Bale's mum had kindly donated a signed shirt to auction and we had a football jersey signed by all the Welsh players. This was at the time of their success at the Euros. We had one coffee morning that raised £900 and all of these things together really helped us."
By March 2016, the group were in touch with the National Lottery and had passed Stage 1 of their application process to secure funding. The group was given the impression that the money was more or less assured, being a small request compared to some of the others.
The Scouts then wrote to the Moondance Foundation, a charity foundation set up by the owners of Admiral Insurance.
"We had a letter back from them which said that they'd pledge £50k if we reached our target," says Abbie. "This was hugely motivating."
The cause was getting a lot of local press and as a result, much-needed money was now coming in. By July 2016, the group was ready to submit its offer to the church.
"It was a sealed bids process so we had no idea whether we were likely to win. We were convinced that we would be outbid. I was on the escalator in a supermarket when I got the email to say that we'd won." Abbie pauses as her eyes fill with tears. "We were so happy!"
But the group's bid still relied on the large sum of money from the National Lottery – and they weren't due a decision on whether they would receive it for a few months.
"They kept reassuring us that we'd be fine and that we'd get the money but then they did finally come back to us, and it had been rejected."
The group's bid for Lottery funding had failed. Although the Scouts had raised a significant amount of money, they now faced a dilemma to walk away or to raise the remaining money that they were relying on from the Lottery to fund the bid that they'd won.
"We'd been banking on it," says Abbie. "We had spent hours filling in all the forms and working on our submissions. We were reliant on that money coming in for the offer that had been accepted.
"We took a break at Christmas as we were all a bit broken at that point. We resubmitted our application to the National Lottery but it was rejected instantly.
"After Christmas, we picked ourselves back up. I remember looking at a card that I'd had from one of the kids, thanking us for all the hard work. That made me think that we could do it. We needed a new approach and it was at that point that we re-invented ourselves.
"We set ourselves up as a community interest company. This allowed us to ask people to lend us money and to pay them back later. Eversheds kindly did all of the paperwork on this for nothing – we were very grateful to them."
The group subsequently received big pledges – 25k from Garfield Weston and £10k from Bernard Sunley – both charitable foundations. People ran marathons and someone did a parachute jump.
"We publicised our mission on social media and pledges started coming in from all over the country. We said that we would pay them back in 15 years time but we were also getting anonymous donations from people who didn't want the money back."
Amazingly, the Scouts reached their magic number without the Lottery funding.
"We are now running things more as a business. We have lots more space here now so we will rent the church and hall out – for parties, groups and classes, that kind of thing."
The group has gone from running cake sales to running a business. But it wasn't an easy ride.
"We've had so many knock backs but we have an amazing team. Everyone has really pulled together – the driving force has been the kids – it makes you remember why you're doing it. The kids feel that they have achieved something big too and their success also allows them to bring their kids here when they grow up.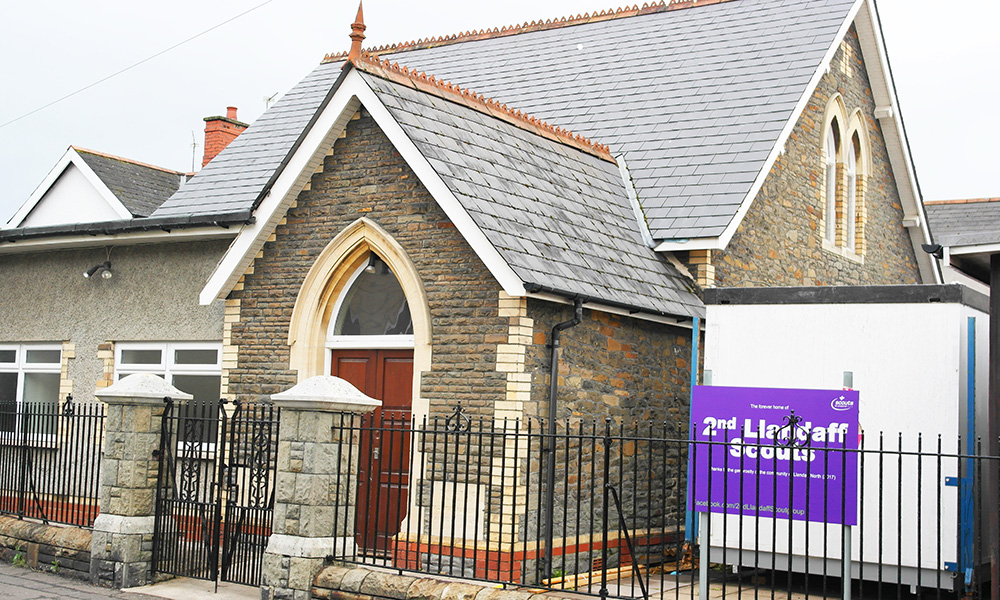 "Our key objective now is to deliver our programmes that focus on life changing skills and adventures – things that many kids would not normally be able to do. We've also suddenly ended up with two halls and had just a few weeks to get them ready.
"We sent out a DIY SOS to the community and have had help coming from all kinds of places – Costa Coffee with supplies and cake, floor and wall coating volunteers that have fixed our floors and painted the walls. Whitchurch Builders also gave us all the wood we needed."
Abbie has really followed her heart:
"I was the first female scout in Wales – that's my claim to fame. Through scouting, I've made the best friends ever; I've done some wonderful things and being able to offer the same to the kids now is great.
"There are lots of opportunities for sport in Llandaff North but if you're not sporty, the Scouts can offer other things for you. The boys and girls here get along very well – some girls want to climb trees and some boys want to do stuff in the kitchen, and we encourage them to do whatever they want to do. Our badge work also gives a real sense of achievement. We have just awarded four of our scouts with Chief Scouts Gold Awards. They will pick up their awards in City Hall in September. It's this sense of personal growth that's so rewarding."
Looking ahead, Abbie is feeling positive about the group's future:
"We can now offer more for the kids to do but we are desperate for leaders and more assistants. It's only 2 hours a week for the group and you get all your training provided. It looks great on a CV and doesn't have to be every week – it can be once a month or once a fortnight!
"We are now looking to take our scouts to different places. I was recently part of a team that took 130 kids to Holland for a week. Every single one of them came back a bigger and better person. We had one scout who was very teary when he left. He had his nose in a book and didn't really want anything from us apart from a few cuddles. By the weekend, he was walking around a theme park with a gold sparkly jacket on! Next summer, we're going to do a big summer camp. Then I want to look to be able to take the kids abroad."
Words perhaps that the Assistant Group Leader only dared to dream of saying two years ago.