Only the best is good enough.
It's a motto that has carried Rhiwbina's Gateway of India to many successes over the last two decades. But these aren't just hollow words. Everything about this award-winning takeaway is backed up with distinction and passion- from the highest quality ingredients through to the personable and friendly service in store.
"It's this that makes the difference here at the Gateway of India," says owner Moslaur Rahman. "From the highest quality premium meat to the finest onions we can find, we only ever buy the very best ingredients. We tread our own path with our famous blast-chilled, heat-at-home philosophy which we believe gives you a fresher, more nutritious taste and greater convenience around busy lives," he says.
The takeaway, which opened in 1995, is a firm favourite for Rhiwbina residents and beyond.
"From the bottom of my heart, it's been an absolute honour to serve the local community for the last 22 years," says Moslaur. "I feel humbled to have seen and known so many customers over the years. It's great to know that the Gateway of India plays a special part in people's lives, whether we are providing a family meal or catering for bigger functions."
The business has recently undergone an extensive rebrand to reflect its dedication to the art of Indian cooking.
"We've been working with LimeGreenTangerine, one of Cardiff's leading branding design agencies. They've produced a great new look for us that reflects our vibrancy and authenticity to the Indian culture. We've also been working with WhirlMedia, who have taken over the marketing and business development."
The shop itself has also been refurbished to an exemplar standard. Passers-by will have noticed that the takeaway is now more colourful and lively.
"Our shop is now a vibrant and exciting place to visit. Guests can be transported to the way of Indian life thanks to the new projector that continuously shows Bollywood music videos. We've even had people up dancing!"
Even the furniture reflects the Gateway's authenticity – being made from reclaimed Indian wood.
Perhaps one of the biggest recent announcements has been the new delivery service to the local area, which has now been extended to all of Cardiff. At the moment, they are offering free delivery as an initial promotion, before they start a £5 delivery fee.
In addition to this, the Gateway of India will be offering an overnight delivery service to anywhere in the UK.
"The food is just as delicious cooked from frozen and it gives other customers the opportunity to experience our much-loved Indian food. Whether it's local students who are away and missing home, or whether you want to send someone a treat box of yumminess, the new online courier service means that more and more people can enjoy our food."
The meals are packaged inside polystyrene boxes and insulated with cardboard. A courier picks up and delivers within 24 hours.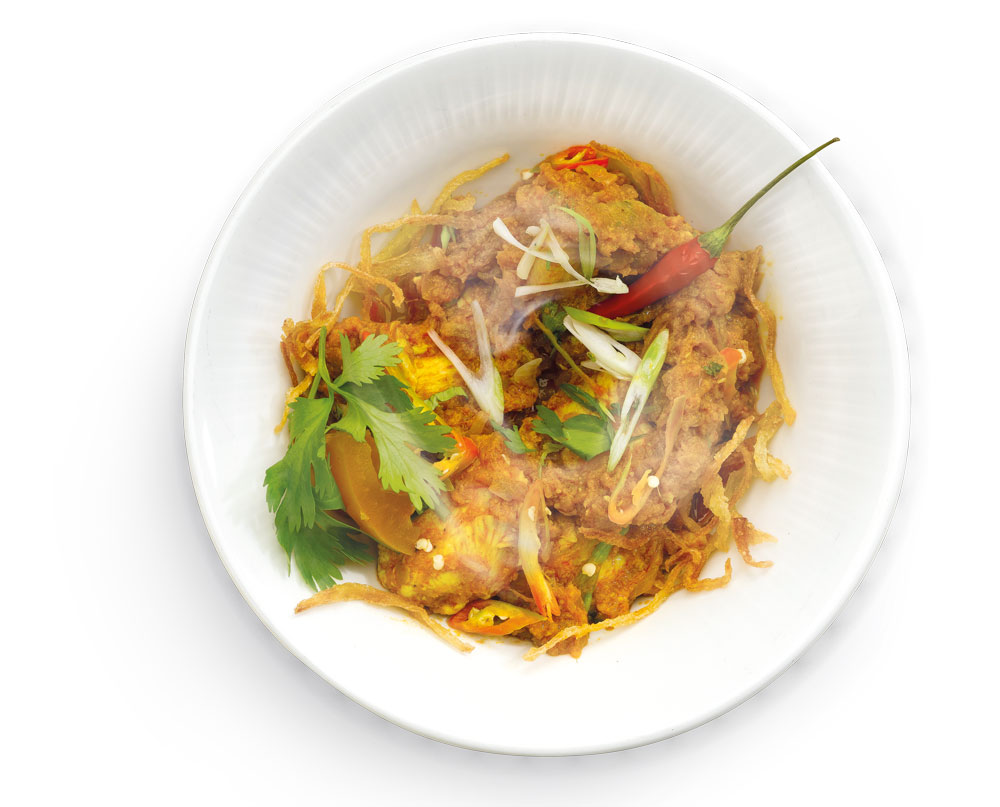 The launch of their new website in conjunction with the rebrand has certainly put the icing on the cake. With more and more people using the internet to organise their lives, a functional and attractive website is a must-have service for any business.
Visitors to the site can browse the extensive menu, order their food online and even set up deliveries.
"Customers can also subscribe to our popular mailing list. We email everyone on our list every Thursday to let them know what delicious specials my wife Ellen has created for the weekend," says Moslaur.
Ellen's Specials have become something of an anticipated event and they often sell out well before the weekend finishes.
The food forms the cornerstone of the Gateway's continued success and Moslaur is passionate about its preparation, its creation and its delivery.
"We go to great lengths to look after your health. From premium fresh Welsh lamb to farm assured Norfolk chicken, every ingredient meets our exceptional standards.
"All our dishes are nutritionally analysed and have a shelf life of 5 days. Our quality, cleanliness, passion, dedication and integrity shines through every dish on our menu. We don't use any artificial colouring agents and all our rice is grown in the Himalayas."
Looking after customers' health is important to Moslaur and he has developed a low-calorie menu for customers.
"Each recipe is perfected using traditional methods and closely guarded, family recipes developed over decades. Locking in the nutrition giving a fresher flavour – just order at your leisure and swiftly heat it up in the oven, microwave or hob when you're ready to eat."
The Gateway's new Grab & Go service allows customers to simply take their chosen meal from the fridge without having to wait for it to be prepared.
For added convenience, the Gateway is now open from 12pm on a Saturday, but Moslaur is always happy to see his customers:
"If you're passing and our lights are on, pop in for some food. We've got plenty of food freshly prepared for you in our new fridges so it's simply a case of Grab and Go! Our chefs create the dishes daily and each meal comes in a container that can be frozen, microwaved or even popped in the oven. The eco-friendly containers are made from sugar cane and are biodegradable. Reducing our carbon footprint and doing what we can to be respectful to the environment is important to us."
Moslaur is also on the look out for more pop up events where he can showcase his food.
"We recently provided the catering at a rooftop cinema event at Jacob's Antiques. We are proud to have been awarded the Hospitality Award for South Wales for Restaurant of the Year, so we are able to provide excellent catering facilities for events and occasions."
Ultimately, the love that Moslaur gives to his cooking and his service is reflected back by his patrons and the community.
"We feel a great sense of pride about the way that the people of the community feel about our takeaway. It goes back to the saying that only the best is good enough and we like to think that Rhiwbina is well deserving of a place like the Gateway of India."