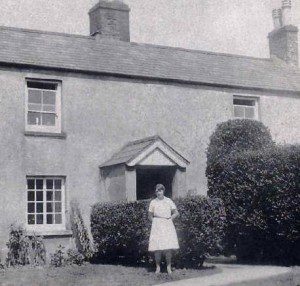 My lovely Dad was Harman Williams, born at Melin House, Melingriffith, 5th August 1913. He was one of a family of eleven children born to Jennet Ann and David John Williams. Grandad Williams was superintendent of the Melingriffith Tinplate Works and they all lived in a very large house (it had to be with thirteen of them) and they were locally referred to as Williams The Gate, because theirs was the only house that sported a gate.
Dad was called Harman because that was his mother's maiden name. She was born in the 1800s in a little cottage in Tongwynlais on the right hand side of Merthyr Road, just past the Lewis Arms – those little cottages with the railings outside. I wish I knew which one but there's no one to tell me now.
Dad was the youngest, but one of seven boys and he had four sisters. The boys went to school in Tyn y Pwll Road – Dad stressed that Whitchurch and Melingriffith were entirely separate from each other. Often when walking home from school they would catch sight of a man they called George the Oil. He had a horse and cart which delivered oil, presumably for oil lamps, to all the houses in the area. The children would run after the horse and cart all the way home to Melingriffith and were very out of breath by the time they reached Melin House.
None of Dad's sisters worked when they were young. Nancy, one of his sisters actually had a motorbike – something called an 'Indian' which she rode around Whitchurch. She married a chap called Reg Arthur and they had the ironmongers shop in Taffs Well. Nancy used to play the piano for the silent films in the Rialto Cinema in Old Church Road.
Dad told me a story of how on Halloween he and his brother Cyril, who were about seven and eight years old at the time, were dressed up in white sheets and covered in flour by their Mum and went out 'haunting'. They walked down by the canal which had some little hump back bridges over it. They decided to cross over the bridge and when they heard footsteps approaching, they would hover up over the bridge through the mist which had settled over the canal, and make moaning sounds to frighten people! This unfortunately had catastrophic results.
The woman who was walking down the path at the time had recently lost her brother who had committed suicide from that bridge. How were they to know that she would be the first person to come along? The screams were horrendous apparently as she picked up speed, running like something possessed to her house in Velindre Road. They in turn, were absolutely petrified and ran straight home telling their mother what had happened. Realising the gravity of the situation, she cleaned the flour off them, removed the sheets and sent them back out to see what was happening.
By the time they got back to the scene of the crime, a mob of angry men had formed a kind of posse to seek out these heartless villains and sort them out! Dad and Uncle Cyril decided the best thing to do was to join the cause. Dad said he recalled walking up Velindre Road and seeing the poor lady in her front room, lying back in a chair being ministered to by various do gooders who were comforting her. The whole incident was written up in the local newspaper the next day. Dad and Cyril deliberately kept a low profile that day!