Good news for Rhiwbina dental patients
I'm pleased to report good news for Rhiwbina residents with the opening of the new NHS practice Gwena Dental Care. I campaigned on behalf of constituents who were worried about finding a new NHS practice after the Rhiwbina Dental Surgery announced it would no longer be seeing NHS patients.
The new practice, on Maes-y-Coed Road, opened on November 1st and, as promised, is prioritising patients who lost access to NHS treatment when the previous practice went private.
Events in Rhiwbina village
In October, I attended two very successful events in the village to mark the opening of the Victoria Fearn Gallery's Christmas Exhibition and a fashion show organised by Calon Rhiwbeina to raise funds for the very worthwhile charity 2 Wish Upon a Star which supports suddenly bereaved families.
Events in the Senedd
In the Assembly, I've sponsored events including the ChildLine 30th birthday celebration. The event was attended by ChildLine founder Dame Esther Rantzen (pictured). It's so important that in these troubled times children, who reports show are feeling ever more anxious, have someone to call if they feel they have no one else to turn to.
I also attended the launch of the Samaritans annual report and an event hosted by Radio Wales' Jason Mohammad and the BBC World Service to explore refugee stories.
More public toilets needed
In November, I highlighted the lack of public toilets in Rhiwbina, Whitchurch and Llandaff North after being contacted by a constituent, Betty Lewis, who was concerned about the lack of public toilets in the area.
I know that this is causing concern for her and other older people who just don't feel happy to go out if there are no facilities and it also affects parents with young children too. I'm pressing for Assembly Members to take account of this when we scrutinise the new Public Health Bill in the Senedd.
Whitchurch is an excellent place to do your Christmas shopping, with plenty of individual shops to buy gifts and of course it has the chemist, the Post Office, the health food shop and greengrocers for your everyday needs.
But one thing Whitchurch now lacks is a public toilet – and lots of people, particularly older people, tell me this is off-putting. I was contacted by a constituent from Whitchurch, Betty Lewis (pictured), to say how she and many people she knows, are worried about the lack of public toilets in Whitchurch. This can really stop older people leaving their homes and having the social contact of a short shopping trip. It also affects the parents of younger children too. As Betty told me, not everyone is happy with the idea of using a pub or a café, even if there is a sign up saying that their toilets are open to the public.
So Betty and I have launched a campaign for a public toilet in Whitchurch. I've been out with my team on the high street and had a great response. I hope this will help make the Council think again about provision in Whitchurch, as well as in other smaller shopping centres around the city.
Boots 120th anniversary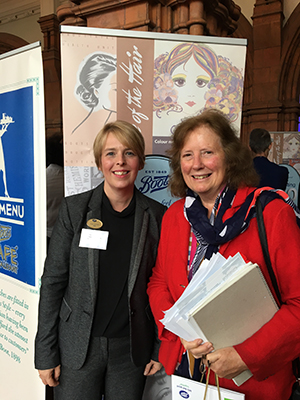 Also in November, I attended an event to mark Boots' 120th anniversary in the Pierhead in the Bay. I was pleased to meet the manager of Boots in Whitchurch, Sian Kirby (pictured), who had been specially chosen as one of a handful of store managers from across Wales to attend the event.
Velindre Hospital
Last month, I hosted an event in the Assembly to explain about Velindre's plans to transform cancer services across the whole of south east Wales. It was a very well attended event and we were informed about the plans for the new Velindre, which I hope will gain access from Coryton roundabout to reduce the impact of traffic in the village. We were also told of the satellite radiotherapy and other cancer services it plans to offer at hospitals outside Cardiff. In fact, we learned that only 20% of the patients at Velindre come from Cardiff, so the new access plans should make a huge difference to the traffic in Whitchurch.
How to get in touch
If you have any concerns or issues please contact my office on 029 2061 4577. I can also be contacted via Twitter @juliemorganlab and email julie.morgan@assembly.wales.