As lockdown confined us to our homes, a group of musicians collaborated in isolation to produce a celebration of melody
When lockdown was announced at the end of March, many soon realised that life as we know it would change, possibly forever. Workers were told to either work from home or not work at all.
Joel Piacentini was one of them. The musician from Rhiwbina was stuck at home, his creative outlet cut short by the pandemic.
"I'm a self-employed financial adviser by day and work through lockdown has been very difficult. Work just stopped. My wife was also shielding so as a family, we had to follow the same rules as her. Like many others, I found myself at a loose end, looking for something to do with my time."
Joel's affinity with music started at an early age.
"I've been an active musician since I was a child. I started playing the guitar at 6 years old. My brother-in- law Robert taught me my first ever chords."
Since then, Joel has spent his life performing live music to various audiences in various different guises.
"Up until the lockdown, I played live music regularly and the frustration of not being able to do that made me think about doing it virtually online.
"I celebrated my birthday during April and I had some basic recording equipment and it got me thinking about creating music with fellow musicians. The first people I approached were my friend Stuart and my nephew Gareth and we released our first recording on 29th April on Facebook."
Joel and his band's first performance was quickly shared around social media, and was quickly followed up with another.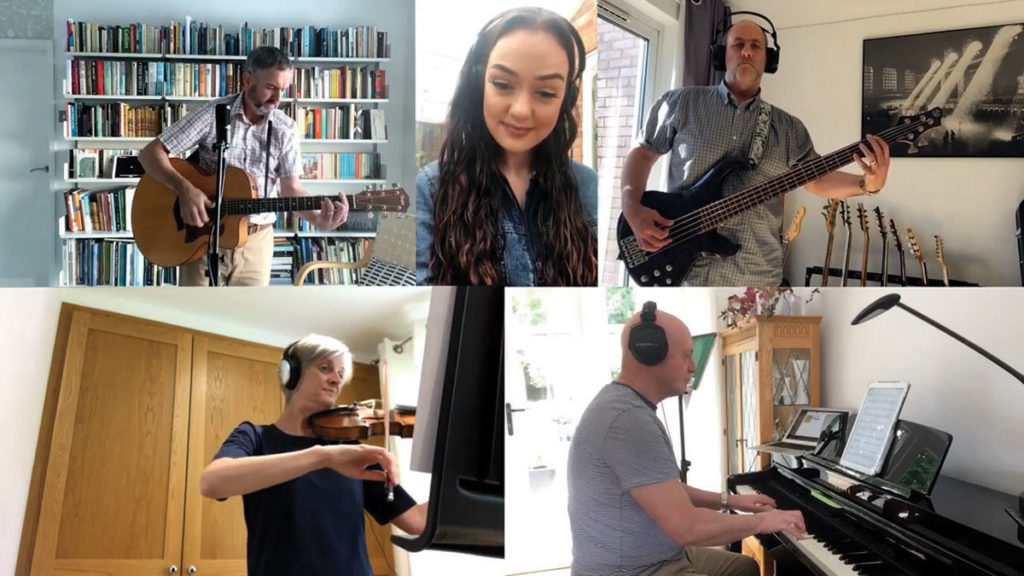 "It grew from there," says Joel. "I reached out to other people I knew in the community, musician friends, and they put me in touch with other people, some of whom I've never met. We've got a young drummer called Callum on our videos and I've never met him in real life!" he adds. "We were all performing in our own locations so we came up with the name of the Lockdown Buddy Band."
The performances have a very polished feel to them but Joel is quick to point out that a lot of unseen work goes into each video.
"When we first set out doing these videos, we tried doing a live session over a Zoom call. The problem was the time-lapse and we found it impossible to create a cohesive piece of music.
"So we had to come up with other ideas. Most of the tracks start with me performing my part on guitar and voice. I stick to a strict time and record it on video.
"The next step then is to send out my video to all the other musicians who then record and video their part in isolation. When it all comes back in, it's then down to me to stitch it all together.
"Before lockdown, I'd dabbled a few times in creating music digitally but I've learned a lot over the last few months. The technology side of things has been a challenge but I understand it a lot better now."
The band doesn't have an official members list, as Joel calls on a rotating list of musicians, most of whom are based in and around Cardiff.
"Most of the musicians are from the city. I'm in Rhiwbina but others come from Cyncoed, Whitchurch, Lakeside and Thornhill. Our violinist Kim Thomas teaches at Llanishen Fach Primary School in Rhiwbina."
In a wonderful twist of fate, Joel's ex-Cardiffian brother-in-law, who first taught him how to play the guitar, now features on some of the videos.
"He plays piano all the way from Vancouver so that certainly makes us an international set up. It's great to think that technology now allows us to create music together, even though we're opposite sides of the world."
The band plays an eclectic mix of music, ranging from The Beatles, through to Elbow and the likes of The Lumineers and The Fratellis.
"I'm a little older now so we've been trying to play a few songs that have been released within living memory," laughs Joel. "We felt that people needed cheering up and we've had some wonderful comments from people."
The performances have been met with acclaim from all over, including from overseas.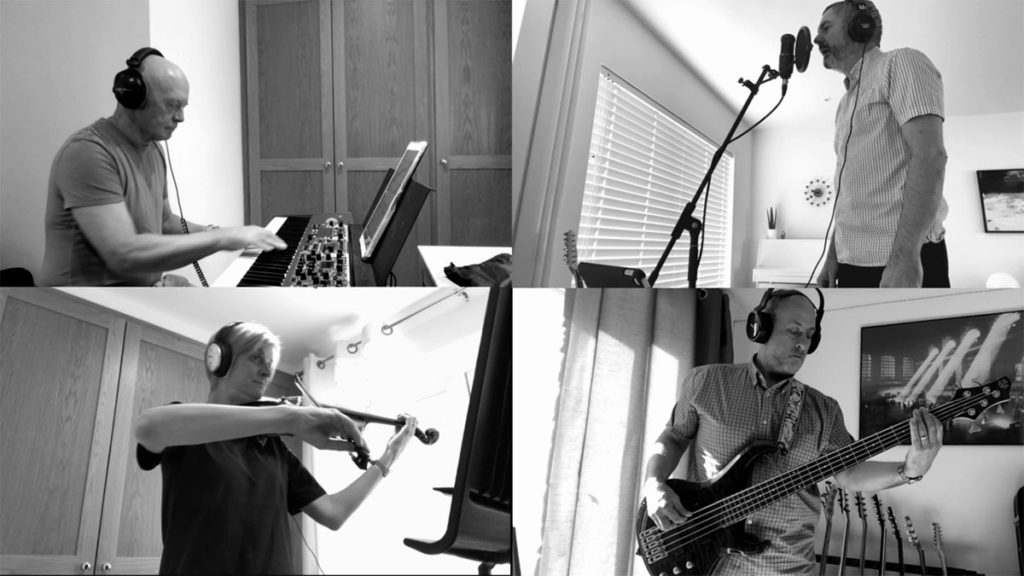 "My great grandfather was Italian. He was from a village in Tuscany and we've had some lovely feedback about our performances from that part of the world."
The warm welcome that the performances have accumulated have made Joel think about the future of his music.
"There has been such a positive reaction to all of our performances and our aim has always been to provide something for people to focus on when things get scary out there. We've had people get in touch who have been very isolated these last few months and it's really perked them up.
"Nobody is really sure how long it will be before live music returns to our lives so it's given me some thought about what my future could look like.
"In the past, I've been performing as part of a trio that plays to social clubs, bars and at private functions. My most recent residency was at Penylan Social Club, but of course, all that has changed now. Many of the musicians in the videos are people I've performed live with over the years.
"As 'normal life' is slowly starting to resume, we are going to continue with the online performances. Output has slowed a little as some of our musicians have started going back to work. Ultimately, I would love to do at least one concert locally and recreate all of the tracks with all the individuals. There's also been talk of creating a charity CD or DVD, but there would be things such as copyright issues that we'd need to look at before we started any work on that.
"I definitely want to continue working with my lockdown buddies, but perhaps not in our current set-up as we move out of lockdown.
"The list of band members is still growing. I currently have 16 musicians, including myself, two nieces, one nephew, one brother-in-law and my wife."
Joel's vision has kept both himself and his musician friends busy during the lockdown, but more importantly, they've put a smile on the faces of those who have perhaps spent too much time alone.
You can find Joel and his band on YouTube here
They are also on Facebook at www.facebook.com/rhiwbina.ldbb
You can read our latest issue of Rhiwbina Living online here