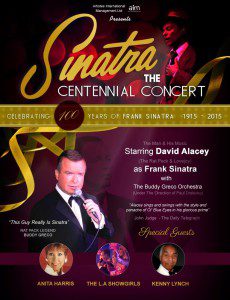 Friday 23rd January will see St David's Hall swinging to the music of Frank Sinatra.
Celebrating One hundred years since the icon was born in Hoboken, New Jersey, this show is far more than a Tribute to Frank Sinatra.
From his debut with Harry James in 1939 through the swinging golden years at The Sands during the sixties, to his final goodbye at The MGM Grand in 1994, the magic of Sinatra live in concert is captured perfectly by David Alacey.
This lavish production encapsulates not only the wonderful music of the original legend, but also the remarkable personality of the star who ruled the world of entertainment for over half a century.
Including all of the hit songs and anthems made popular by the legendary performer such as "Come Fly With Me", "The Lady Is A Tramp", "My Way", "Strangers in The Night" and of course, "New York New York". These classics along with rarer gems are performed with amazing accuracy by David Alacey who not only sings like Ol' Blue Eyes, but also shares his unique mannerisms. Physically resembles him on stage and talks like he is at the Sands in the sixties taking part in an unforgettable evening with Count Basie and his Orchestra. In the words of one of Frank's closest friends – Buddy Greco "David really is Sinatra..it's frightening".
He is joined on stage by the stunning L.A Showgirls, Buddy's own Big Band under the direction of Paul Drakeley and Guest Stars including star of 7 Royal Command Performances, Las Vegas, Broadway and Movies – the multi-talented Anita Harris. Evergreen British all-round Entertainer and hit recording star ("Up On The Roof" "Stand By Me" and many more) – Kenny Lynch completes the star studded line up.
So don't miss this opportunity to celebrate one hundred years of a true Legend and experience what it was really like to spend an evening in the presence of the greatest entertainer of the twentieth century doing it as only he could – his way!
Ladies and gentleman from here on in – Frank Sinatra.
The show takes place on Friday 23rd January. More information here.
www.franksinatracentennial.co.uk
"David Alacey – well this guy really is Sinatra! It's frightening".
Vegas Legend – Buddy Greco
"His Recording of The Theme from New York New York for Atari Games is too close for comfort"
The Sinatra Estate
"Alacey seemed to have somehow imbibed the very essence of 'ole blue eyes' before coming on stage.
His performance was breathtaking – seriously! The tone, the modulation and the rhythm in his voice throughout the evening was genuine Sinatra. His masculine charm was also apparent in his pristine characterisation and it was with effortless charisma he strolled into the audience and sang I've Got You Under My Skin while chatting and engaging with the ladies – just like the icon"
Sarah Gudgeon – – The Edinburgh Herald & Post
"David Alacey not only looked like Frank but he had the drawl, the wit and boy could he nail a tune. We may never see such greats as Frank Sinatra again in our lifetime but the good news is that as long as such talented impersonators continue to exist, we may not need to". Chris Longhurst – Uxbridge Gazette
"Alacey wraps his late night programme at The Café Royal in elegant chic"
James Green – The Stage
"Sinatra himself (David Alacey who also devised and directed the show) strolled onto stage filling the theatre with a very close vocal of 'Ol Blue Eyes himself – he was good, no very good!"
Helen Rawlings – The Gloucester Citizen
"The melancholic mood is wonderful but it soon bursts into action as Sinatra sings the songs that made him a legend. David Alacey is clearly a student, no, a master of Sinatra as he displays every movement from hand gestures to head turns. It is a fascinating performance."
Sally Casey – The Harlow Star