After spending nearly a decade drinking and partying, TV's Mathew Pritchard cleaned up his life with a new passion
"One coffee please. With almond milk."
It's a miserable January day. In a North Cardiff coffee shop, former skateboarding prankster Mathew Pritchard is nervously looking out of the window.
"I'm giving a speech to the Welsh Assembly tomorrow," he says quietly, tipping a sachet of sugar into his coffee.
It's a long way from his former life co-presenting Dirty Sanchez, the MTV show that saw Mathew, along with three others, performing dangerous stunts and pranks – usually harming themselves in the process.
"I used to get blind drunk before I went in front of the cameras for Sanchez. It helped with the nerves. I can't really do that in the Assembly tomorrow."
Matt is giving a speech about how he managed to turn his life around for the better. After seeing himself on TV in 2007, Matt realised that he had to do something about his health.
"I looked an absolute wreck and realised that I couldn't go on like that. I decided to clean up my act and get fit."
Matt entered the Cardiff Half Marathon. He got such a buzz from it that he then entered a full marathon, a half Ironman followed by a full Ironman (a long-distance triathlon race, consisting of a 2.4-mile swim, a 112-mile bicycle ride and a marathon 26.22-mile run, raced in that order and without a break). In 2010, he ran from John O' Groats to Land's End in just 30 days.
Today, Matt is well-renowned for his endurance races but he's also well-known for championing veganism – living one's life refraining from consuming animal products. This includes not only meat but also eggs, dairy products and other animal-derived substances.
"A few years ago, not many people really knew what a vegan was. There was a stereotype of them looking like some dishevelled hippies and for most of us, we'd all been brought up accepting meat and dairy as part of our lives. We'd all think of a meal as meat and two veg and we'd all see the adverts on telly telling us to drink more milk.
"These days of course, we've all got access to the internet and to social media and we all know a bit more about what really goes on. For me, I woke up to the horrors of the meat and dairy industry in 2015 and you can probably say that the rise of veganism comes down to a lot of people doing the same."
It's true that the number of people adhering to a plant-based diet has risen dramatically in the last few years. Demand for meat-free food increased by 987% in 2017 and the number of vegans has quadrupled between 2014 and 2018. People cite one or more of three key motives for going vegan – animal welfare, environmental concerns and personal health. For Matt, becoming a vegan was a life-transforming event that at first, came about for health reasons.
"I was doing a lot of research and it struck me about how many ultra athletes had gone vegan. There had to be a reason why they were all turning to it. I then watched a documentary called Cowspiracy. It was a life-changer for me."
The film explores the impact of animal agriculture on the environment and investigates the policies of environmental organisations on this issue.
"I was unaware of the impact that animal agriculture had on the environment. I didn't realise that it was slowly killing the planet. And for me, going vegan soon turned from worrying about my health to worrying about the animals."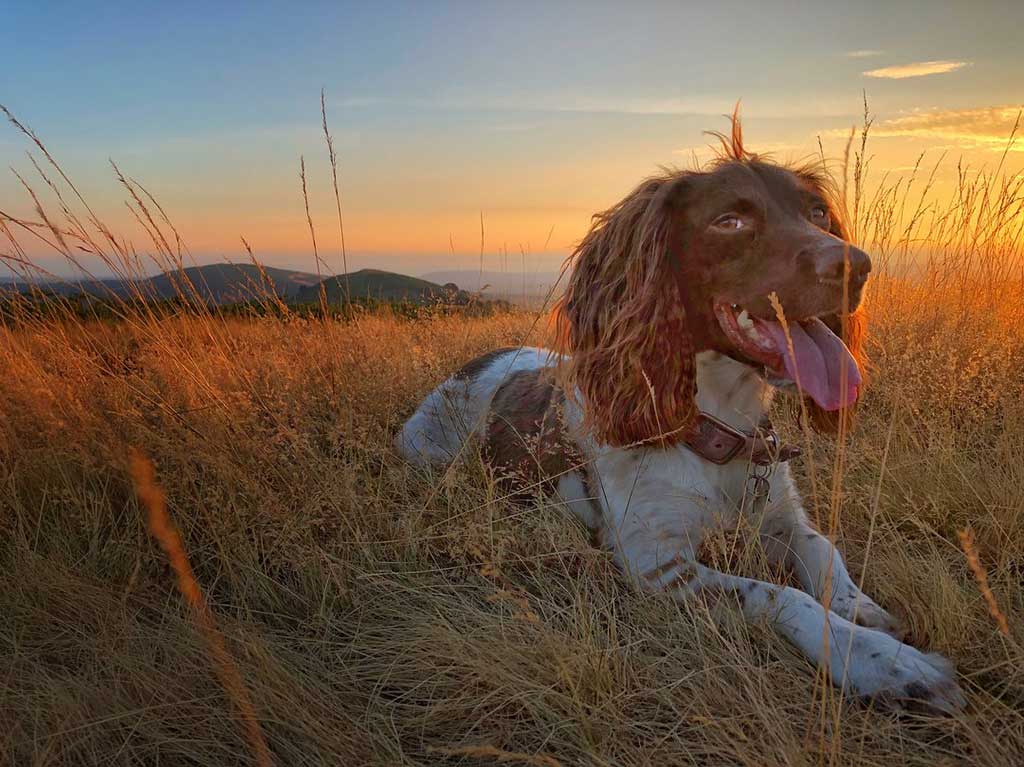 Matt's dog Lemmy is a huge part of his life.
"My dog Lemmy is my mate. He has feelings, he has his own sense of humour and a personality. To me, my eyes had been opened and I couldn't figure out where the cut off between eating a dog and eating a pig was. Why one and not the other? I wouldn't see myself eating Lemmy so why should I eat another animal?"
Matt soon saw the health benefits of going vegan too. In 2016, he became a world record holder by completing 30 Half Ironmans in 30 consecutive days. That's a 1.2 mile swim, a 56 mile cycle and 13.1 miles of running every day for 30 days.
"I feel 100% healthier since going vegan. I feel physically better but also I feel more at peace because I don't eat meat. I'm not funding a barbaric trade that's based on killing."
This year, Matt is setting himself the challenge of the DECA 10 day/ 10 Ironman event. He's aiming to complete a 2.4-mile swim, 112-mile cycle and marathon (26.2 miles) every day for 10 days – just over 1,400 miles in total. He has 350 hours to complete it.
"I enjoy setting myself the challenge. It's great. I shut off from the world and it's just me. It's peaceful. I'm happy in my own head for that time, just plodding along. My body's pretty much conditioned for that kind of thing now anyway."
Matt's conversion to veganism also rekindled a long lost love.
"When I went vegan, I rediscovered cooking again. I'd studied cooking in uni and then went to work in a restaurant on City Road for two years. My boss there wasn't very nice and it really affected my confidence. That's why I left that world behind me and went into something else and ended up in TV.
"Going vegan meant that I had to open my mind to cooking and eating new things. I started looking online for vegan recipes but I found a lot of the YouTube channels out there really boring. It then hit me that there was a gap in the market for something a bit different – something a bit more upbeat.
"I spoke to two friends who were more experienced in that sort of thing and we set up my own YouTube channel."
Matt's YouTube channel became an instant hit and has been seen by hundreds of thousands across the world. It led directly to his BBC show Dirty Vegan that was shown in Wales in January, before being broadcast to the rest of the UK.
The show saw Matt visiting various groups with specific nutritional needs and being presented with the challenge of cooking vegan food for them. He had to cook for a women's rugby team, a group of OAPs, GCSE students and even a Mountain Rescue team.
"The second half of last year was so busy, I felt like my head was going to pop. It was while we were filming that I had the idea for a tie-in book. It made sense. I was working on the TV show from 7am till 11pm most days and when I got home, I had to start thinking about putting the book together. Luckily, I have a good team behind me and it was them that made the difference. I appreciate everything they do for me."
Matt's book was published before Christmas and was lapped up by the critics.
"If someone had told me 20 years ago that I'd have my own cookery book out, I wouldn't have believed them. A friend of mine got in touch shortly after it had been published to tell me that it'd gone to number one. I was thrilled but when I looked closer, it was the best seller but in the Salad section on Amazon."
Matt has also signed up for another two books and is hoping for a second series of Dirty Vegan. For now at least, he's keeping busy promoting veganism and his chosen charity The Sound of Animals, who are dedicated to rescuing the abused and abandoned street dogs in Thailand. They also rescue dogs from the dog meat trade in Cambodia.
Matt's enthusiasm and energy is inspiring people across the world. One glance at his popular social media accounts is testament to the amount of total strangers getting in touch to say how they're starting to look at their lives in a different way, and turning them around for the better.
For the former Glantaf pupil, leading a simpler life has led to a clearer sense of wellbeing.
"Buy yourself some trainers, open the front door and go for a run."
Dirty Vegan by Matt Pritchard is published by Mitchell Beazley, £20.
Dirty Vegan available on BBC iPlayer.