Dilys Price reveals how a single skydive led to a passion that changed her life and the lives of countless others
Dilys Price was 54 when she first leapt out of a moving aeroplane at several thousand feet.
"No one could have been more scared than I was," she says.
"I went up in this aeroplane with this lovely young man. I was scared, very scared – but I trusted him. We were up in this large transport plane and suddenly the back opened and all you could see was this gap of sky and cloud, and a little bit of ground far beneath. And the other sky divers all ran out, about 12 of them. They were like cattle, boom, boom, boom – and they all disappeared.
"Then there was this silence and it was just me and him. And we walked towards this hole. And as I looked, instead of taking a step forward, I leaned back and of course, that made no difference. He just tipped me over and out. And as I went over and fell from the sky, I was so scared. I thought – what a mistake – this is death! And I really meant it!
"But in the next second, I thought – Oh my! I'm flying! I'm flying!"
Dilys Price isn't your average North Cardiff pensioner. She has dedicated her life to the welfare of others and in doing so, she has inspired and influenced countless people. She has been recognised globally for her work.
"When I was younger, I loved dancing. I'd dance at home or on the beach – I loved moving. In my 20s, I was trained by Rudolph Laban, considered as one of the pioneers of modern dance in Europe. He believed in the beauty and integrity of everyone. It was why I chose to work with disabled children later in life. Even people in wheelchairs want to connect and express and be praised for that expression. Everyone has the right to dance."
Dilys's upbringing was to forge her caring side that has brought about so much positive change to the world.
"I was brought up in a Christian commune. My father was a gardener and my mother a cook, and it was a time of great hardship. There were lots of strikes and it was very difficult to get a job. I had a good education though and we also had a lot of children staying from Nazi Germany who were sent over by their parents. They arrived with beautiful silk clothes in big trunks and I always remember the large labels on the children. Some of these children never saw their parents again, so from the beginning of my life I respected and cared for others. Our community was diverse and we were all in it together.
"The poet Auden, whose work I love, said that he puts people into two categories – those who worship the ego and those who worship the higher good. I was brought up in a caring society. In our commune, we were all working for the higher good."
Working for the higher good is how Dilys has dedicated her life.
"In the 1970s, we had an informal group called Choice who worked with disabled children in Special Schools. Our aim was to help get them to the Special Olympics but they never had any money for travel or outfits.
"I actually started doing the parachute jumps to raise money for the group. We'd done a sponsored run, we'd held a concert and even a car boot sale. So I said that what we needed to do was a skydive. But if they were going to do it, so was I."
But there was another thread to Dilys's skydiving story.
"Being 54 was always going to be a difficult year for me because my beautiful, talented mother had committed suicide at that age."
So aged 54, Dilys made her very first jump. It would change her life for the better. It enabled her to express her love for life and for her first love – dance. Since then, Dilys has gone on to complete more than 1,300 jumps, dancing across the sky on each occasion. At 81, she became the Guinness World Record holder for the world's oldest female skydiver.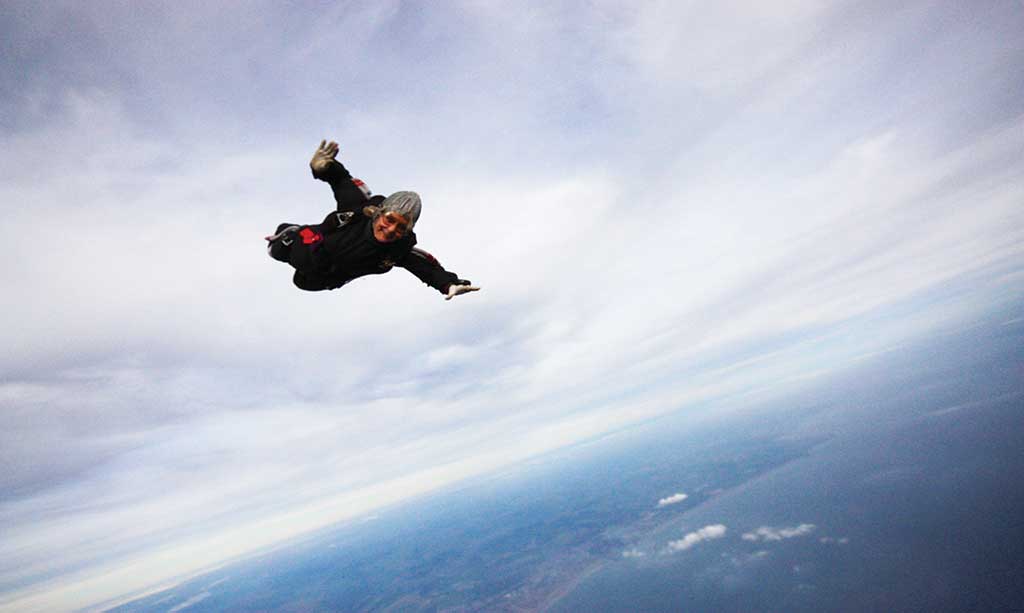 "As a former dance teacher, skydiving, being in the air and flying appealed to that side of me. At first, they weren't sure if I was too old and I was also a woman. Even now, only 17% of skydivers are women. But I insisted, even though some of them said that I'd kill myself. But I trained and fell in love with it. I used to dance in the sky. It was very difficult, it was almost like driving a very fast car – but I did freestyle. I used to go out with a cameraman and do pirouettes and back loops, stand-ups, headstands, and I actually went to the British Nationals and got a silver medal. By that point, I was 60 years old."
Not all jumps have gone to plan and it was these that helped give Dilys courage to press ahead with her charity work.
"My parachute didn't open on two occasions. One time, I couldn't release it because it was so twisted and that was scary. It was terrifying but wonderful.
"All parachutists will tell you that they've had moments like that. You have a reserve parachute and you have to make a decision, and make it correctly and that's a skill of skydiving. But at that moment, I learnt courage, how to make decisions and how to be strong.
"Skydiving has taught me a lot about resilience. It's taught me about working at something, facing difficulties, not giving up, having an optimistic view about life and believing that anything is possible. I see it with families and children who are so courageous. They put up with things and find themselves active in things that we never thought possible."
In 1996, Dilys founded The Touch Trust from her kitchen. It soon grew into a renowned centre for movement education (called 'touch therapy') for people with autism, dementia and profound disabilities. Using music, colour, scent and touch, they now help more than 1,000 adults and children every week. In 2004, the charity took up a permanent residence at the Wales Millennium Centre.
"When we started out, we wanted a Happiness Centre and we were looking at leaky garages. We had no money at all. We are now in a beautiful suite which is full of colour and fabrics. We have a one-to-one room and a group room with overhead hoists and special beds. Because we are an arts organisation based there, we get people from the Welsh National Opera come in to link with us, which is unbelievable. They often thank us for making them better performers.
"We never turn anyone away – never. Our strength is that group of people who are still isolated for some reason, from the rest of society. There is so much happiness there. We've seen people who have cerebral palsy, who've been unable because of their spasms to use the buttons on their wheelchairs, to being able to use them. The breathing that we teach them helps their spasms and they can gain a lot more control.
"We've copyrighted the programme and have trained over 100 people to deliver it. But we need more money to zoom out to the world."
But as in life, the charity is facing a big challenge.
"Sadly, due to the cost of staying at the Wales Millennium Centre, we have been forced to reconsider our location. Presently, the annual cost for Touch Trust to stay here is £62,000. Continually committing such a large amount of our annual funds to rent is prohibitive to our mission. Without financial support to bear some of the burden of the high rental cost or a rent reduction, we will be forced to relocate."
The news will force Dilys to call on the resilience she's built over the years.
"I broke my ankle in three places on a jump when I was 83 and then had fluid on my lung and had a permanent catheter put in. But it dried up and I recovered.
"I think that being a positive thinker and having a joy in life has made me resilient."
Needless to say, Dilys did jump again – although she hung up her parachute last year at 85.
Her work continues to be recognised both regionally and nationally:
"I got an OBE in 2002 which helped me to get the charity into the Wales Millennium Centre. I'm very proud of that. In 2014, I picked up a Lifetime Achievement Award at the National Diversity Awards and the same title at the Wales Care Awards.
"In 2017, I won a Pride of Britain Award. And last year, I made the Top 100 Women in Wales who'd made a difference. I'm so very grateful and very lucky. In my work, I've never thought about titles, I've just been doing what I can do to help."
Dilys is currently working on a self-help book and giving inspirational talks. She also volunteers with the homeless. She still dances.
"I want to keep active. I still dance but not so much. Positive energy will always have a positive result. Breathe deeply. And like Goethe said:
"One ought, every day at least, to hear a little song, read a good poem, see a fine picture, and, if it were possible, to speak a few reasonable words."
My wonderful father also had a saying and that was:
"If you fall off your bike, get back on it and do wheelies. That's what I've done all my life and what I intend to do for the rest of it."
HOW TO DONATE
Donate at www.justgiving.com/touchtrust or by post to Fundraising, Touch Trust, Wales Millennium Centre, Cardiff CF10 5AL. Please make cheques payable to Touch Trust Ltd. You can also donate via BACS (Sort Code 20-18-17 Account number 20242993). More information at www.touchtrust.co.uk
Main image courtesy of WalesAndCo.com/Joann Randles