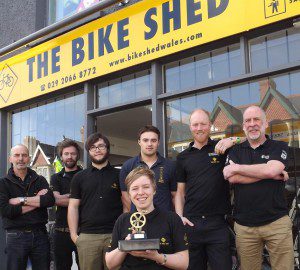 A Cardiff bike shop has been named Welsh Store of the Year by Cyclescheme, one of the UK"s biggest cycle-to-work providers.
The Bike Shed, in Cathedral Road, Pontcanna, is one of the first recipients of a trophy in Cyclescheme's inaugural 2015 awards scheme.
Based in Bath, Cyclescheme was launched in 2005 to help commuters switch to cycling to get to work. It now has more than 40,000 clients throughout the UK, ranging from multi-national companies and public corporations to SMEs. Staff save at least 25% on the cost of a new bike via tax efficient salary reductions.
Chris Waters, of Cyclescheme's retail and events team, said: "The Bike Shed has been an enthusiastic supporter of cycle to work for some years and thoroughly deserves to be named Welsh Store of the Year in our inaugural awards, which celebrate our 10th anniversary.
"We've seen countless people go through big changes in their lives as they adopt cycle-to-work. They lose weight, get fit, even find love as they switch to two-wheel commuting."
The Bike Shed's promotion of the scheme has led to it being adopted by companies and organisations like Dow Corning, British Gas, BBC Wales, Public Health Wales and Cardiff Council, and hundreds of small firms and individuals.
Director, John Higgins said: "Cyclescheme gives us fantastic access to companies wishing to promote cycling among their staff. It not only provides staff with a great and inexpensive way to commute – companies have the added advantage of a happy and healthy workforce. And the more people joining Cyclescheme means fewer vehicles on the road.
"We get many individuals buying bikes, and we lay on in-house exhibitions to inform company staff about the scheme. To receive this award in its inaugural year is especially pleasing."