Cardiff Metropolitan University has once again broken records in the Sprint Triathlon and a host of athletics events at this weekend's inter-University championships.
At the BUCS Outdoor Athletics Championships in Bedford on Monday, steeple-chaser Jonathan Hopkins, hammer thrower Jac Palmer and the men's 4x100m relay team all also broke Cardiff Met Athletics Club records with the men reaching their highest points score in eight years and finishing in second place overall.
Cardiff Met sent their biggest ever sprint team to the Triathlon contest in Calne, Wiltshire, with a record 19 Cardiff Met students contributing to the  638 total competitors, who toughed it out in challenging wet and windy conditions, including thunder storms and hail stones.
Triathlete Zoe Thomas, a final year Cardiff Met BSc Sport and Exercise student had a great start with a strong swim and the fastest female bike ride of the day, rivalling a number of male competitors, as well as running well to take the victory by a 49 second interval.  Zoe competed against several top international athletes, including Sophie Coldwell, a second year Loughborough University student who is on the start list for the London World Triathlon Series race at the end of the month, when she will go head to head with the world's best triathletes.
Cardiff Met's Sam Wade (MSc Strength and Conditioning) scooped gold to add to his 2013 silver medal and competed against plenty of first year talent from a range of universities, as well as the three athletes from other Universities, who dominated the podium at last year's event.
Sam began well with a good swim, had the fastest bike split of the day and ran very strongly to lead by 58 seconds.
Cardiff Met's Kieran John (second year BSc Sport Management) and Ieuan Cooke (first year BSc Sport and Exercise Science) collected the bronze medal in the team event.
Dr. Andrew Lane, Programme Director in Sport Coaching, said: "For a number of other Cardiff Metropolitan University athletes it was the first or second experience of triathlon and all enjoyed the event and competed well.
"Very well done to all competitors. And a big thank you to Leah Cooper for helping to organise the team, Rhys Jones and Rhys Payne for assisting with travel and coaching the University squad; Dave Cobner for supporting the Triathlon centre's development along with Cardiff University and Welsh Triathlon as well as all the facility staff who allow us to train day in and day out.
"Our athletes have an excellent environment to train in, and are a really good squad who support each other and drive one another on. They are passionate, motivated and determined athletes who invest a lot of time and effort in their sport  – often over 20 hours each week, training between two and four times a day."
The BUCS Outdoor Athletics Championships are the first national competition of the season for UK student athletes.
Having recently returned from altitude training in the Pyrenees, Jonathan Hopkins equaled the Cardiff Met steeple-chase record (which has stood since 1971) and narrowly missed out on the BUCS championship best performance.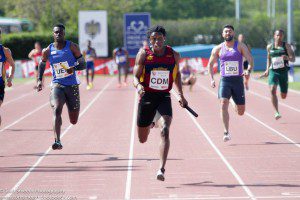 Nineteen year-old fresher, Jac Palmer also broke the Cardiff Met club record in the hammer against a strong field and adding to his recent personal best with the junior weight of 70.88m which places him second in UK within his age group.
Another record was beaten in an emphatic men's 4 x 100m relay victory from Gareth Hopkins, Rich Tremblen, Dewi Hammond, Sam Gordon and Jason Amartey with three of them progressing to the final of the 100m as individuals. Three slick change-overs and a commanding last leg by silver medalist Sam Gordon put the team well clear of the chasing teams.
The female performance of the weekend came from Charlotte Wingfield, who impressively claimed silver medals in the both the 100m and the 200m. BUCS indoor long jump champion, Becca Chapman continued her good form leaping over six metres once again to win silver.
In the javelin, Hannah Johnson and Steve Turnock managed to throw close to their personal bests and place in third and second respectively, despite both having missed much training due to injury.
The medal haul continued with Morgan Jones scooping gold and silver and James Ledger, who was awarded silver and bronze in the ambulant long jump and 100m events. The two pushed each other to quick times in the 100m with Jones eventually winning by two hundredths of a second and strong performances in the long jump.
Dr Gareth Wiltshire, Performance Director for Athletics​​, said: "This result confirms our place among the best university athletics clubs in the UK. I am delighted with the efforts of the athletes and coaches involved and couldn't have asked for more from the team. With a long history of success in sport at Cardiff Met, there is some pressure to perform well each year. However, with the current crop of talent developing each year and a new outdoor track on the horizon, I have no doubt that our best days are ahead of us."
Main image: COPYRIGHT Tom Smeeth Photography – Cardiff Met student Sam Gordon on the last leg of the 4×100
Image 2: Track squad (l to r) Sam Wade, Ieuan Cooke, Zoe Thomas, Deri Stewart and Kieran John.