The former Whitchurch High School student talks about her life as a professional soprano
"I'm only back for a week," says Sarah Gilford.
The 27 year old soprano is taking some much-needed time out at her North Cardiff home, although home these days can also be considered Munich, where she is currently undertaking a Young Artist Programme. Over the last 12 years, Sarah has been building her singing career and enjoying every moment along the way.
"I'm trying to think of where it all started. It must have been at school. My parents still have videos of one of the nativity plays I was in and we put it on the other day. It was so funny watching it back. I went for the loud and wrong approach back then!" she laughs.
"My aunty is an amateur singer and the idea of me singing has always been there. I went to Llanishen Fach Primary School and when they gave me a main role in their Christmas play, I started thinking about singing properly. I played the title role of Snow Robin. It was my first big break I guess and that's where it started. I was in Year 2 so I was 7 years old."
With Sarah deciding what she wanted to do at an early age, her parents were the first to offer their backing.
"My parents were never pushy and my mum waited for me to beg for singing lessons because they were so expensive. She didn't want me doing them if I wasn't that interested. You have to really commit to something like that. I started lessons at the age of 10, when I was also interested in doing musical theatre. I soon realised that I was never going to be a high-level dancer so my singing teacher suggested that I try classical singing. It was the best thing for me in the end."
High school was the foundation of what was to become a professional career. Sarah began appearing in school concerts and other competitions like the Urdd Eisteddfod.
"I went to Whitchurch High School where they had a great music department. Mr Phillips, the Head of Music there, was a big supporter of mine. Every year at school, we used to sing outside Queen's Arcade to raise money for Velindre Hospital. My first proper singing teacher was a lady in Whitchurch called Angela Morris-Parry, who really helped me. I did wonderful things like the South Glamorgan Festival of Young Musicians and ended up at the age of 18 winning the best overall singing prize. I really worked my way up. I went from knee-knocking, terrible singing to winning a lot and it really built up my confidence. Angela taught me for about ten years and I learned a lot from her."
While other teenagers would perhaps spend time on video games and social media, Sarah was setting about building a career for herself.
"I was 15 when I made my first CD," she says. "During my last year of Sixth Form, I auditioned for four UK music conservatories and was unsuccessful. I auditioned again a year later and received a place at the Royal Northern College of Music in Manchester. That's where I went to do my undergraduate degree. Four years didn't seem long enough. I got to my fourth year and felt that I was only just starting to understand what my teacher had been trying to get me to do. I stayed for another year where I continued lessons with my teacher Debbie Rees and gained some stage experience, including a substantial role in Mozart's opera, Così fan tutte."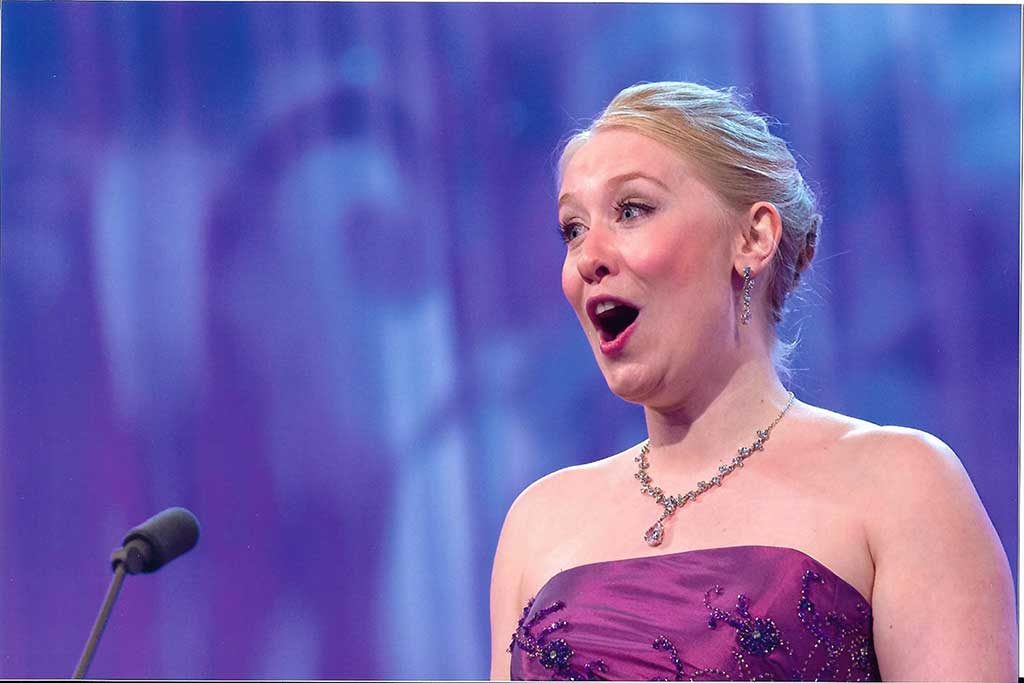 Sarah's years at the Royal Northern helped develop her language skills – as well as all-important stage experience.
"They give you bum pads when you're working in period costume so you're actually a lot wider than you think you are when you're on stage. I remember in my first dress rehearsal, I was supposed to be trashing this room up but in a very staged and organised way. But because of my bum pad, I ended up taking tables and chairs with me and destroying things I shouldn't have. It was a great learning experience for me!"
After five years at the Royal Northern, Sarah took a full year out but got involved with a few opera festivals, including landing a role with Longborough Festival Opera.
"It was the same director who'd worked with me on the Mozart opera at the Royal Northern. Also that summer, I won the W Towyn Roberts Scholarship at the National Eisteddfod. It's the biggest singing prize that you can win there.
"I don't speak Welsh so I got some of my Welsh-speaking friends and my first-ever singing teacher that I had in Cardiff to give me some guidance. Everyone was shocked when they found out that I don't speak Welsh. I was lucky that the panel had all worked internationally. I won £5k which went straight towards my Masters degree in London."
Effectively taking two years out had allowed Sarah to build on her skill levels and enrich herself with experience that was put to good use when she started her Masters degree.
"It really paid off because throughout my masters at the Royal Academy of Music, everything I auditioned for, I got. I'd developed my experience and technical ability in those two years and it's all helped propel me into this professional career."
After completing her Masters, Sarah set about making her next move.

"I'd decided that I didn't want another year off and that I wanted to go into an opera school or a Young Artist Programme. I auditioned for several places and was offered a place at the Guildhall Opera School but then I also got an audition at the Bavarian State Opera and went there thinking 'absolutely not a chance'. I didn't feel that I was ready.
"I got through to the second round and then to my surprise, they offered me a place. Out of 900 people, they only took three of us. I've worked really hard and have never taken anything for granted."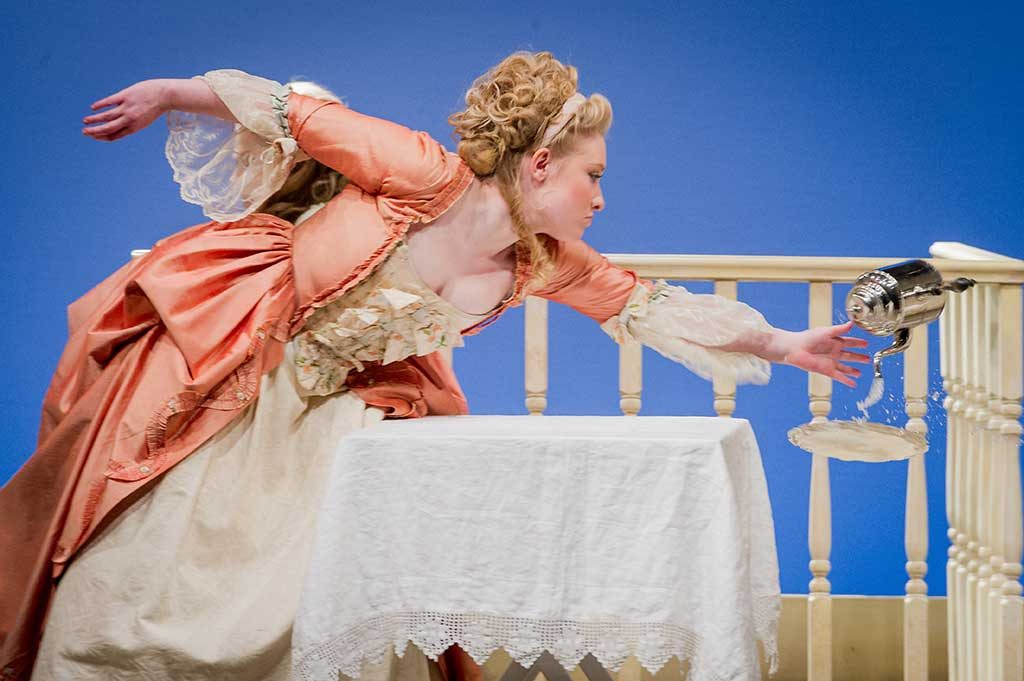 Her residency in Munich is set to last one year, but more often than not, young artists are kept on for a second year.
"This one opportunity in Munich has made a big difference to my life. You have to have so much resilience in this trade. More importantly, you need to believe in yourself. Even when I was doing A Level Music, I realised that this industry is a very subjective one. Not everybody's going to like you but there will be somebody out there who will. And you'll always end up in the right place if you stay true to yourself and you know what you want, especially from an early age. If I didn't get any parts that I'd auditioned for, I'd tell myself that it wasn't for me. You have to fail in order to learn."
Sarah's attitude to both her work, and life, speaks volumes about her tenacity and focus.
"I was very academic but I've never needed the qualifications that I've achieved. In auditions, no one asks me whether I got a First or not. In the singing world, you might have a really great degree but you may not necessarily have a career in it. If you want to have a career in any of the arts, you need to be clear on what you want in life."
For now, Sarah is focusing on honing her skills.
"Classical singing is a fine art similar to ballet. You learn to use your voice and body in the most efficient way in order to be heard over an orchestra without amplification.
"I will be nervous for my first official opera in Munich. I always get nervous but I do enjoy the set up of the stage and the audience. You can see the first few rows of people before they disappear in the dark but when I've got a costume on and I'm armed with stage directions, I feel less nervous because I feel less exposed than when I sing in concerts or recitals. The closer the audience is, the more nervous I get.
"It's perfectly natural for me to get nervous but I think what's changed is the way I view it. I see it more as excitement now, rather than worrying about what might go wrong. Nerves can help as long as they're kept at a manageable level."
As well as keeping nerves under control, there's also the challenge of remembering all the words:
"When I was younger, I used to learn the words no problem but the older I get, the harder I find it. I now write out what I'm learning, over and over. I speak it out if I'm walking down the street – it's like a constant engagement with what I'm doing. I don't feel like I can have time away from it.
"With opera, when you go into production, it helps sometimes when you have to sing a line with a certain stage direction. The music is also a helpful association when trying to memorise the words. You end up remembering them forever."
Emboldened with skills, experience and talent, Sarah is looking to develop her career even further.
"My proudest achievement to date is being offered a place on the Young Artist Programme that I'm now working through. I've learnt how to pronounce German, French, Italian, Welsh, Russian and Czech but I've never learnt languages. If there's one thing I'd love to get out of being in Germany, it'd be to learn the language."
And to prove that life works in circles, Sarah recounts a story that proves how far she'd come in just ten years.
"Recently, Mr Phillips from Whitchurch High School invited me to do a Christmas concert with the Cardiff and Vale Youth Orchestra at Hoddinot Hall and it turned out to be exactly ten years later than the last time I sang with the same orchestra. It was nice to go back with so much more experience and it was nice to indulge in the nostalgia.
"It's been a great privilege winning lots of awards and I do feel very supported. The Arts Council of Wales, the Ryan Davies Memorial Trust, the John Fussell Trust and the Hartsheath Charitable Trust, all Welsh funding bodies, have all played their part and I'm hoping that this is the start of my professional career."
Looking ahead, there are still a few achievements on the to-do list.
"I would really love to compete in Cardiff Singer of the World and also sing with Welsh National Opera. But in the meantime, and in terms of my immediate career, I'm just going to keep taking everything in and working hard while I'm here in Munich."
Find out more about Sarah at www.sarahgilford.com