Food Review
If you're a Rhiwbina resident, it's more than likely that you've popped into Snails for a coffee and a bite to eat.
The deli is a popular place for mums, young families and friends to meet for breakfast, lunch or to enjoy coffee and cake.
But while the village settles down for the evening, Snails transforms from a rustic coffee house into a cosy, candlelit restaurant.
The Friday evening we visited had been fully booked but we were kindly squeezed in for an early sitting.
We were greeted by Bert who had extensive knowledge of the menu. His enthusiasm was matched by that of Ellis who served the wine. You really feel looked after here from the moment you step in the door!
Green and black olives with slices of focaccia bread were served after we'd ordered our starters – a green salad and some vegetable dumplings. The salad was a perfect appetiser – cucumber, tomatoes, red onion topped with a balsamic-based dressing and the tastiest parmesan crisp you'll ever crunch. The strong, salty after taste lingered long enough to compliment the red wine we'd ordered.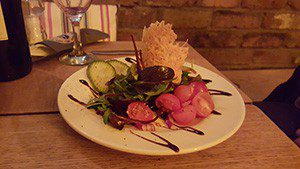 The vegetable dumplings were soft, warm and surprisingly delicate and these little bundles of joy were served with two sauces – one of which had enough heat to send ripples across the tongue. These were served with some 'superfood' seaweed salad.
Mains were served as the restaurant was beginning to fill with hungry-looking customers. Chef Drew's recommendation of the steak lived up to his promise. It is very rare to find a chef that cooks a steak to your liking but this was pure heaven – tender with a chargrilled flavour.
Think When Harry Met Sally and you'll know what we mean. The appreciation of deliciousness didn't go unnoticed by those around us – the knife slipped into the steak like it was hot butter – and talking of butter, Drew's incredible garlic butter sent our taste buds into raptures of joy.
The steak was served with home-made chips and some red cabbage coleslaw that was both mellow and sharp at the same time.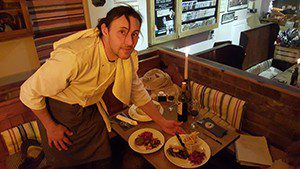 The vegetarian option was just as impressive. The black bean enchiladas were so fresh, you could have sworn that the ingredients had just been pulled from the ground. The wraps were light and soft, and served with guacamole, sour cream and a zingy verdi salsa that complimented the lime zest that was lingering in the background of the palate.
An extensive dessert menu was offered to us but we were so full that we sadly had to decline. Coffees were also available and we all know how good a Snails coffee is.
Snails has done well to create a unique evening venue right in the heart of the village. We concluded that we've been missing a trick by not coming here sooner – the low lighting, the smooth jazz, the excellent and attentive staff all combined wonderfully.
The food was simply the highlight of the evening. As chef Drew told us:
"I like to cook real food for real people – with love."
Supper at Snails is available every Friday from 6pm-11pm with last orders at 9.30pm.
Call 02920 620415 to reserve your table.