There can't be many 120 year olds still entertaining the good people of our capital city, but that is just what the St Albans Concert Band are doing and indeed have been doing since 1896 when it was first formed in the Splott area of the city.
Over many years, the band has been an integral part of the community and helped both adults and children alike appreciate that playing music is not only satisfying but also fun.
Despite the passing of the years and changing to meet today's needs, the band is still going strong which says a lot about its commitment to music in Cardiff.
Many people will of course remember the band from its links with Welsh Rugby Union & Cardiff Rugby Club, playing regularly in both the Cardiff Arms Park and providing the "Hwyl" for Welsh fans at the Wales games in the National Stadium up until the late 1980's. This link, and the affection rugby supporters had for the band, was epitomised the Max Boyce album "The Incredible Plan". Indeed the band appeared with Max on the stage of the New Theatre in Cardiff in the early 1980's.
Although many aspects of the band and its music have changed its basic aims and values remain and its musicians continue to enjoy playing great music and providing entertainment that people of all ages can enjoy. This could be in "themed" concerts, performances with other organisations such as choirs or simply traditional "Sunday afternoon in the park" music.
The band is an amateur organisation. It brings together musicians of all ages and from all walks of life to enjoy playing brass, woodwind and percussion instruments. .
Over the years it has been essential to develop and adapt to make sure that the band continues to provide great entertainment for the city with a wide variety of music which includes traditional marches, classical and light music alongside music from films, shows and even rock and jazz.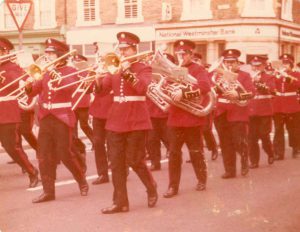 The band's diversity is also demonstrated in the Saints Big Band which was formed in the early 1980's by some members of the concert band. This is a well established 15 piece swing band in the City. It has a formidable reputation for re-creating the glorious sounds of the big band era with music from legendary band leaders such as Woody Herman, Tommy Dorsey, Duke Ellington and of course Glen Miller. But the Saints repertoire also includes more modern music and jazz. It provides foot tapping music for a wide range of functions including dances, wedding parties or simply concerts to appreciate this timeless music.
Both bands are proud to be cultural and musical ambassadors for Cardiff and plan to continue to entertain the city for many years to come. They will continue to provide a musical outlet for any woodwind, brass, sax or percussion players who wish to develop, continue or rediscover their musical talent.
The Concert Band currently rehearses in the church hall of Whitchurch Methodist Church, Merthyr Rd Whitchurch and is always on the look-out for new players who want to join a welcoming friendly band. We would also welcome anyone's contribution and ideas for music, concerts and venues where we could perform along with any help or sponsorship.
If anyone is interested please contact Liz John on 029 20318298 for further information or check out our website where there is more information and notices regarding future events.