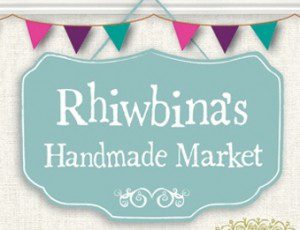 Following a successful November debut, Rhiwbina's Handmade Market will return to the Memorial Hall on Sunday 2nd March for a Mothers' Day themed special. Rhiwbina Handmade Market
The event will be sponsored for the first time by Ginger Whites of Beulah Road, Rhiwbina. Over 1,000 people flooded through the doors before Christmas to browse the 32 stalls of contemporary craft, and to show their support for small businesses and makers, many of whom are based in South Wales.
April Liddell, founder of the Handmade Market explains:
"We had such an amazing response from the local community at our first event and were so grateful to everyone who queued in the cold to get in!
"The 2nd March market promises to showcase new makers as well as welcome back popular stallholders who will all be selling unique gifts suited to our Mothers' day theme."
o o o o o o o o o o o o o o o o o o o o o o o o o o o o o o o o o o o o o o o o o o o o o o o o o o o o o o o o o o o o o o o o o o o o o o o o o o o o o o o o o o o o o o o o o o o o o o o o o o o o o o o o o o o o o o o o o o o o o o o o o o o o o o o o o o o o o o o o o o o o o o o o o o o o o o o o o o o o o o o o o o o o o o o o o o o o o o o o o o o o o o o o o o o o o o o o o o o o o o o o o o o o o o o o o o o o o o o o o o o o o o o o o o o o o o o o o o o o o o o o o o o o o o o o o o o o o o o o o o o o o o o o o o o o o o o o o o o o o o o o o o o o o o o o o o o o o o o o o o o o o o o o o o o o o o o o o o o o o o o o o o o o o o o o o o o o o o o o o o o o o o o o o o o o o o o o o o o o o o o o