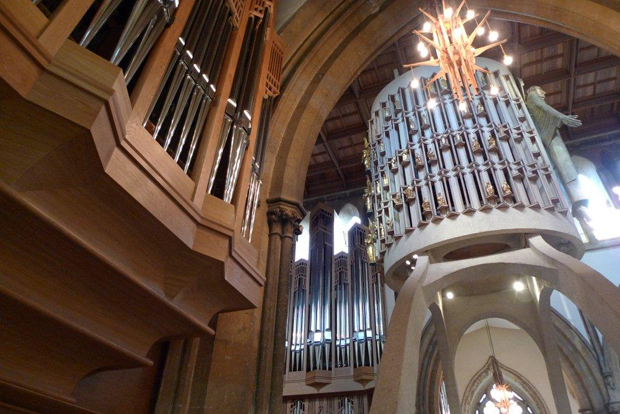 A lightning strike in 2006 finally ended the life of Llandaff Cathedral's one hundred year old organ, and an appeal was launched to raise £1.5m to design, build and install a new organ.
Following consultations The Dean and Chapter instructed Nicholsons of Malvern to provide an instrument of 4,870 pipes spread over four manuals and pedals which was finally completed in 2013 with the installation of the solo organ.
The Cathedral now possesses one of the finest instruments in Europe and to celebrate this historical achievement, the appeal committee have arranged a celebration recital on St.David's day March the 1st 2014, when everyone who contributed to the appeal is invited to attend. The recital will commence at 3.00pm.
The distinguished Welsh organist Huw Tregelles-Williams will be the recitalist and entry is free but only on the production of a ticket which is available through the Cathedral office. Please send or hand a stamp addressed envelope to Linda Quinn, The Cathedral Office, Llandaff Cathedral, Llandaff, Cardiff, CF5 2LA.
Please join us for this wonderful and historical event when you can experience the unique and majestic sound of the organ of Llandaff Cathedral.
o o o o o o o o o o o o o o o o o o o o o o o o o o o o o o o o o o o o o o o o o o o o o o o o o o o o o o o o o o o o o o o o o o o o o o o o o o o o o o o o o o o o o o o o o o o o o o o o o o o o o o o o o o o o o o o o o o o o o o o o o o o o o o o o o o o o o o o o o o o o o o o o o o o o o o o o o o o o o o o o o o o o o o o o o o o o o o o o o o o o o o o o o o o o o o o o o o o o o o o o o o o o o o o o o o o o o o o o o o o o o o o o o o o o o o o o o o o o o o o o o o o o o o o o o o o o o o o o o o o o o o o o o o o o o o o o o o o o o o o o o o o o o o o o o o o o o o o o o o o o o o o o o o o o o o o o o o o o o o o o o o o o o o o o o o o o o o o o o o o o o o o o o o o o o o o o o o o o o o o o