As the Wales journey ends at the semi-finals of the 2016 Euros, we chart the career and life of John Charles, the Swansea-born player who later in life, set up home in North Cardiff.
Never cautioned or sent off during his entire career, he has since been included in the Football League 100 Legends and the Football Hall of Fame.
Standing at 6 feet 2 inches, he was nicknamed by Juventus fans as Il Gigante Buono – The Gentle Giant.
He grew up in Swansea and learnt to play football in the street wearing a pair of clogs.
Yet his name is known around the world as one of the greatest footballers that Wales and Great Britain has ever produced. He's been ranked with the likes of Pelé, Best and Maradona. He also eventually made North Cardiff his home and even owned a shop in Rhiwbina.
Known as the 'Gentle Giant', John Charles was born in Swansea in 1931. At school, John joined the boys section of Swansea Town (later to become Swansea City) and left school at the age of 14. He was taken on as a groundsman at Vetch Field but because of his young age, Third Division Swansea never awarded him a first-team call up. He only made senior appearances for the reserve side in the Welsh Football League.
Major Frank Buckley, the then manager of Leeds United, had heard of John's footballing prowess and sent scouts to Swansea. While playing for Gendros, a local youth club, he was duly scouted and given a trial in September 1948. He impressed them so much that he signed for them at the age of 17. Within a year, he had become a regular.
By early 1949, he had established himself as their main centre-half and went on to win his first cap for Wales against Northern Ireland in Wrexham. He was just 18 years of age.
His debut however, was a forgettable one. His nerves got the better of him and was out-played by the veteran Irish and Aston Villa player, Dave Walsh. John got a second chance against Switzerland the following year and Wales only just managed to win the game 3-2 after going 3-0 up earlier in the match.
During the 1952/53 season, Frank Buckley decided to play John at centre-forward. Leeds were badly in need of goals. It was an inspired decision, John scoring 26 League goals.
His new-found form piqued the attention of Wales once again, who this time played him partnering Trevor Ford. Northern Ireland once again provided the opposition and this time, John produced a much more assured display, featuring in all three goals of their 3-2 win.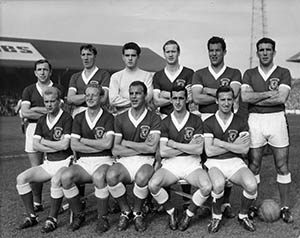 During the 1955/56 season, his tally of 30 goals in 41 games helped Leeds gain promotion to Division One. Once there, he produced another 38 goals in 40 games. His performances didn't go unnoticed.
Italian players' agent, Gigi Peronace, took John to Juventus, the most popular club in Italy for the sum of £65,000. He became an instant hit with the fans who gave him the title of Il Gigante Buono, or 'The Gentle Giant'. His calm and unflappable demeanour was tested by the passionate Italian defenders, who were renowned for their nudging and shirt-tugging.
In his first season, Juventus won the Italian Championship, John then meeting up with his brother Mel to play for Wales in the 1958 World Cup.
In the quarter final in Gothenburg, John was unable to play. Inspired by the bravery of Mel and the goalkeeping of Jack Kelsey, Wales kept Brazil at bay for most of the game and even the solitary, decisive, goal, by Pelé, was a fluke, in off the boot of the Welsh right-back, Williams. In all, Charles went on to win 38 caps for his country, scoring 15 goals.
Playing 34 games in his second season in Italy, he scored 19 goals in the championship; 23 goals were scored in the following season, and 15 in 1960/61. In his five and a half years with Juve, the club won the Serie A title three times and the Italian Cup twice; Charles scored 93 goals, despite being selected to play as a central defender as often as centre-forward.
By the 1961/62 season, John seemed to be slowing up. The following summer, he was transferred back to Leeds United where he played only 11 games for three goals before going back to Italy; this time to Rome. For Roma, he played 10 games, scoring four goals.
Within the year, he was back in Wales – this time playing for Cardiff City where his brother Mel was playing. His scoring stats continued to wane and John, aware perhaps that he had passed his peak, took up the role of player-manager for Hereford United. Though lacking mobility, and playing at centre-half, he could still score goals, particularly with his head, from corners and free-kicks. He left Hereford during the 1971-72 season, and in December 1972, he joined Merthyr Tydfil, again as player-manager.
As if to complete the circle, John moved back to where it had all started many years previously and became manager of the Swansea Youth Team in 1974.
He was awarded a CBE in 2001 for services to Association Football. By his marriage to his first wife, Peggy, he had four sons. He married Glenda Vero in 1987.
John died on February 21st 2004, but his name lives on forever, especially in the hearts and minds of the clubs he played for. The John Charles Lounge in Aberystwyth Town Football Club's ground is named after him, as is the John Charles Centre for Sport in Leeds. The West stand at Elland Road is named The John Charles Stand and the entrance lobby to the Banqueting Suite contains a bust of John, in memory of all he did for the club.
His love for the game was never in doubt. Whilst discussing why he didn't retire at the top of his game, Charles said:
"Why should I pack it in when I could still be useful? As for playing on public parks with few people watching – why not? Is someone suggesting that was beneath me? It can never be beneath the dignity of a footballer to play football."
As for his sports shop in Rhiwbina? Residents recall John not letting children pay for their football boots, which probably accounts for the shop failing to make any money and eventually having to close.