If you take a walk or a drive up to the crossroads of Beulah Road and Thornhill Road in Rhiwbina, you'll notice a barber's shop. You may have even been there for a short back and sides. Formerly known as The Barber Shop, the establishment now goes under the name of Joe's Barber Shop.
The story behind the name change is less well-known, but it's a true story of love and loss.
It was in 2008 that The Barber's Shop was established under the direction of Joe Campbell. Having started work at the age of 15 when the shop was known as Jentz Barbers, Joe took on the shop at the age of just 21.
Step-dad and current owner Gareth May remembers it well.
"He ran the business on his own, renovating the entire shop and doing all the work during the day. He was working 6 days a week and there were many occasions where he'd have a queue of people waiting outside his shop to be served. His devotion to the shop resulted in the Barber Shop becoming a place that people sought out again and again.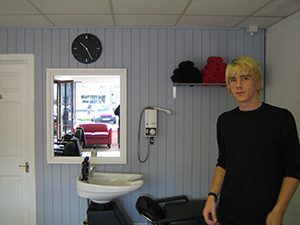 "By 2012, the shop was a roaring success. Joe had never had a day off work sick and even better, had met a girl that he was going to propose to on a planned trip to see the Northern Lights. He went out and bought an engagement ring and booked the holiday," says Gareth.
But by autumn, Joe was complaining of a bad back. Being fairly tall, Joe put the pain down to the long hours of stooping over customers as he was cutting their hair.
Slowly, Joe built the business up to a point where he needed to take on an extra member of staff. Childhood friend Josh was the man to step forward and together, they plotted to become the first port of call in the area for those in need of a trim.
By January 2013 though, Joe's pain was getting unbearable.
Gareth continues the story:
"It was the day before his dream holiday that Joe finally decided to visit the doctor about the pain in his back. Joe had planned to close down the shop, take a well-deserved holiday, come back and renovate the shop. But Joe wasn't feeling well enough to go on his trip.
"The doctor ordered blood tests. Then came a phone call that changed his life and that of everyone else around him.
"The results weren't good at all. Joe had been diagnosed with cancer. It had started off as a tumour on his liver but by the time he was diagnosed, it had spread to his back and his lungs. Then it went to his brain.
"He spent 20 months in chemotherapy. He spent six months in Velindre before being sent to specialists in London who operated on him. In July 2014, he married his girlfriend Liz on a farm owned by the Baden-Powell family. It was a lovely, hippy-style wedding and it was great to see him so happy."
Sadly, Joe died a few weeks later in September 2014. He was 27 years old.
In November 2014, Gareth and Liz changed the name of the shop to Joe's Barber Shop in his memory. Liz designed the new sign and together, they fitted it above the premises.
"We'd like to think the current barbers, Josh and Greg, are doing Joe proud. We have about 2,000 customers which shows the popularity of the place. No appointments are needed – just drop in and we'll take good care of you.
"We offer traditional cuts for men, low fade cuts, as well as hot towel shaves. Lots of people treat themselves to a razor cut – there aren't many places that can provide that service around here.
"We have a chair for children and we've still got the Superhero Wall that was put together by Joe himself. We've got toys for the kids and for the dads, we've got a TV so you can watch sport while you're waiting."
Joe's legacy lives on in the village in a shop that's always full of laughter and fun.
"Three weeks before he died, Joe managed to get himself to the Green Man Festival. The festival scene was something Joe was very much into – he was a happy soul and one that enjoyed hard work, good banter and friendship. We like to think that his upbeat spirit lives on in Joe's Barber Shop."