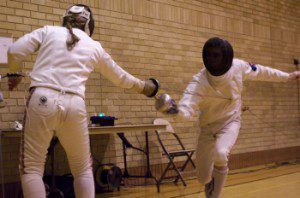 Fencing is now available to residents of Rhiwbina thanks to the relocation of Whitchurch Fencing Club to Rhiwbina Memorial Hall.
The modern Olympic sport of fencing is a mentally demanding yet fun exercise that is great for boosting your body's health and fitness. It develops the arm and leg muscles, as well as helping to improve reflexes and flexibility.
The weapon used at Whitchurch Fencing Club is the epée, the modern descendant of the rapier, which was a duelling weapon. In epée fencing, as with traditional duels, hits are made to any part of the body.
Fencing épée requires finesse, accuracy, and speed, rather than strength, and so it an ideal sport for both sexes.
Whitchurch Fencing Club began in Whitchurch Adult Centre in the 60s, and moved to Rhiwbina Memorial Hall in April this year.
Learn to Fence
We offer a six-week beginners' course, designed to introduce the novice to the basics of sword fencing, and to enable him/her to take part in club fencing at the end of the course.
(Next course starting Tuesday 16th September)
Full protective clothing and masks are provided by the club.
More at: www.whitchurchfencing.co.uk