Just off Rhiwbina Hill sits a school that welcomes children with behavioural difficulties. Despite its challenges, the school consistently delivers positivity and hope. This is Greenhill Special School
It's a wet and windy day in Rhiwbina. Storm Gareth is doing his worst to dampen the spirit. But hidden away at the top of the village, the atmosphere at Greenhill School is most definitely bright and cheerful.

Headteacher Mrs Counsell is wearing a colourful T-shirt underneath her smart jacket.

"Please don't judge me! I don't normally wear this kind of thing," she says.

It's Red Nose Day and the staff and pupils are taking time out to have a bit of fun. Making education enjoyable is one thing that Greenhill School does so well.

The school caters for just under 60 boys aged 11-16. It's specifically designed for pupils who have social, emotional and behavioural difficulties and as such, struggle in mainstream schooling.

Pupils at Greenhill find it difficult to concentrate for long periods of time so they don't spend all day in a traditional classroom environment. Set classes take place in the mornings and more practical, physical and outdoor lessons take place in the afternoons.

"I believe that Greenhill is a very special school and a great place to learn," says Mrs Counsell. "Pupils come to us from schools all over Cardiff. We believe that Greenhill Special School is a new start for anyone joining us. We pride ourselves on being able to provide a personalised and specialist approach to help our pupils overcome the numerous challenges they face.

"Our curriculum is really practical and we do some great things in classrooms and outdoors. Best of all, our pupils get qualifications in all of these things."

The work that goes on in the Rhiwbina school often goes unnoticed by the larger public. But for those in the know, Greenhill provides more than just a basic education.

Over time, and with the support of staff, pupils gain in confidence and take pride in their work and achievements throughout their time there. Support staff also provide pupils with high-quality guidance, inside and outside the classroom.

"Our members of staff are what make this school work so effectively," says Mrs Counsell. "Every one of them works so hard to make a difference to the young people."

Mrs Counsell opens a door to one of the classrooms. Inside is a group of boys watching a nature documentary that's being projected onto the wall. In the corner of the room is what looks like a cave. Inside, lying on a mound of cushions, is one pupil, headphones on, playing a video game.

"Richie built this," beams Mrs Counsell. "It's our Reading Cave. On Mondays to Thursdays, our pupils can take themselves away to read in privacy. On Fridays, like today, it becomes a gaming room."

The school has been effective in making the most of its resources to provide a rich learning environment. Previously unused rooms have been converted into a library and another into a therapy room.

"This one here is the cookery room," says Mrs Counsell, opening a door into another classroom. "We like to teach our boys life skills that they can take into the real world. We take them out and show them things like how to catch a bus or how to change a plug. This has a positive effect on the boys' wellbeing and their esteem.

"As well as the traditional curriculum, our strength lies in the fact that we can offer an alternative education programme to meet our pupils' individual needs."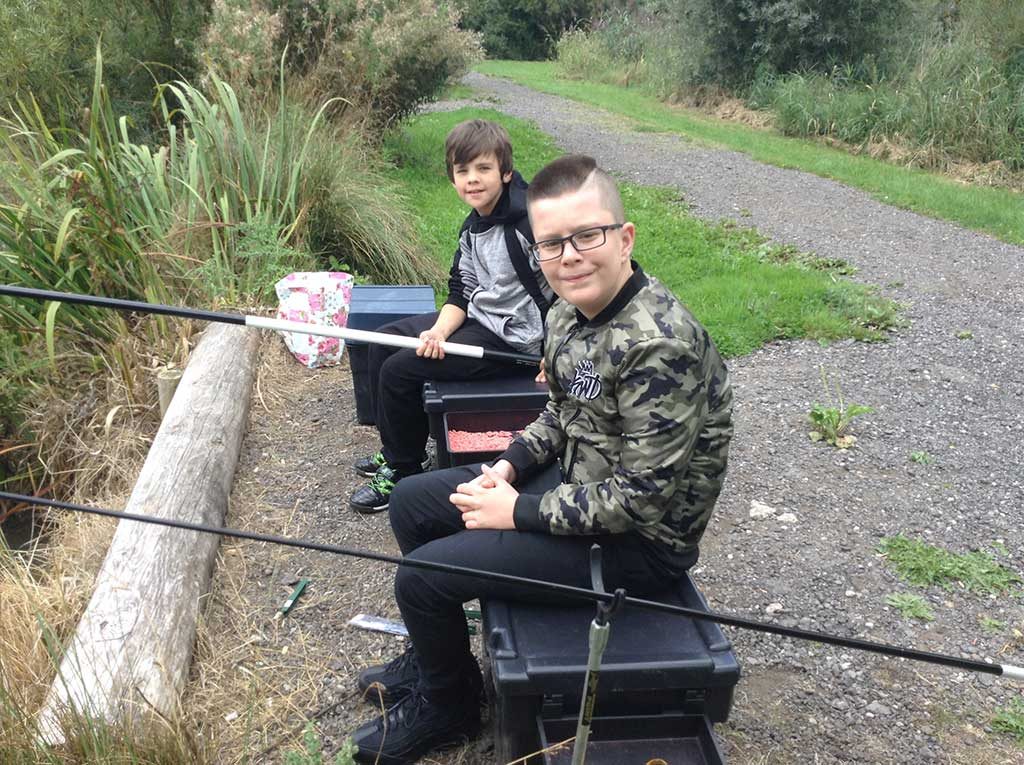 At Key Stage 3 (aged 11-14 years) and Key Stage 4 (aged 14-16), pupils have access to a range of options that lead to qualifications. All pupils at Key Stage 4 have opportunities to take on work experience and there is also an effective alternative curriculum programme for pupils who have a history of non-attendance, exclusion, lack of motivation or challenging behaviours. The programme helps these pupils to engage and develop pride in their learning.

"Our curriculum is enhanced and enriched through partnerships with others," says Mrs Counsell. "We are very grateful for the support given to us by businesses and the local community, all of whom help us to provide our young people with the skills and experiences they need in preparation for adult life.

"We have an amazing team of qualified teachers and teaching assistants that plan and deliver the curriculum in a practical and engaging way that promotes participation. They help develop a sense of responsibility within the pupil and this enables them to become confident and capable individuals.

"We also recognise that all of our pupils have individual talents and interests. We therefore provide a broad range of educational experiences both on and off the school site. These learning experiences help our pupils develop a real interest in the world around them and ultimately lead to each and every one of our pupils achieving externally recognised qualifications."

The off-school activities are ones that the boys really enjoy. Motocross (a form of off-road motorcycle racing held on enclosed off-road circuits) is one activity where pupils are able to learn while enjoying themselves.

"We see them learning about mechanics and engineering when they're dealing with their motorbikes.

"Basketball is a big thing here too – we have hoops both in the hall and outside. Nic is a big fan and an inspiration. Nic plays basketball with the pupils many lunchtimes and he runs a Basketball Club after school on a Wednesday. Last Saturday he, and another staff member, took a group of boys to watch a basketball match at the SGS Wise Arena in Bristol."

In 2017, the school was awarded a prestigious National Association of Advisors for Computers in Education's ICT mark for its innovative use of technology.

The NAACE ICT mark is an award for schools with good use of technology to support teaching, learning and school administration. Pupils and staff were interviewed to demonstrate why their school deserved the award.

And last year, it was announced that Greenhill was able to open a small Sixth Form for up to 8 pupils.

"This has been great news because we were finding that our boys just weren't quite ready for the real world at the age of 16. Having a Sixth Form will allow them to have a bit more time with us to help them prepare for adult life."

Estyn deemed Greenhill School as 'Good' in its last report in 2013. They said that pupils at both key stages 'achieved good standards in relation to their individual learning needs and abilities'. They also noted that 'most pupils have a positive attitude to learning and engage well in lessons'. Their report also highlighted other areas that impressed, including the fact that the rate of fixed-term exclusion had fallen by 43% over the previous three years and that there had been no permanent exclusions for the past five years.

"Our staff deals with the challenges we face very well," says Mrs Counsell. "Our pupils are very wary when they first come here and it takes time for us to build that trust that allows us to forge good relationships – and that's when the magic happens."

The photographs and subject displays that line the school's corridors are testament to the transformative work that goes on within its walls. Greenhill School continues to make a positive difference, both to its pupils and their families.

"We are like one big family up here at Greenhill and many pupils talk fondly about the school after they've left," says Mrs Counsell.

Perhaps the impact of Greenhill School can be summed up in words included in the last Estyn report:

"Overall, pupils make good progress in relation to their individual learning needs and abilities. For many, considering their low starting point, this is significant."