How the seed of a community group took hold and flourished in the village
Madalena Juma talks to the members of the Llandaff North and Gabalfa gardening group
Not far from the River Taff, just off College Road, lies a little green haven that is the garden of the Llandaff North and Gabalfa Hub. This plot of nature is run by Forks and Trowels, a cooperative gardening club that is 11 members strong.
Forks and Trowels was established in 2017 through a council scheme to turn libraries in deprived areas into 'hubs' through money from housing benefit advice. Wellbeing Wednesdays were set-up in the Llandaff North and Gabalfa Hub, and there was a plan to create a gardening club to provide produce for the luncheon club and the Hub's cafe.
Sue, a member and organiser of the group, was called to set up the group, and popped posters around to recruit people for the project. Responses came, slowly but surely, and thus, Forks and Trowels was born. As Sue puts it:
"You only need one person to kick start something, before everyone can join in."
What Do They Do?
The group frequently provides produce for the cafe (and any extra can be taken home by members). This can include blackberries, beetroots, potatoes, tomatoes, and onions, to name only but a few! They run a three-year crop rotation system to keep things varied and interesting every year.
Prior to COVID, they organised visits to other gardens (Chapter, Ely, and Hollybush), engaged with the 'Have a Grow Day' Cardiff scheme to promote gardens for school children, and the Keep Cardiff Tidy scheme. They also sold Christmas trees to the general public, put up a memory tree where people left messages for their dearly departed, hosted a summer picnic, and also invited children around during half-term to learn about bird-feeders.
The Impact of the Group
The members all avow that the group is a strong one, with a solid community, and all members value the 'all-hands-on deck', democratic aspect of the group. The philosophy of Forks and Trowels is that everyone contributes something.
Sue claims that in the area:
"There wasn't really a community before. People didn't know each other, even though they live down the road from each other."
Sue adds that she knows of many lonely and isolated people who she wants to get involved in social activities. But community events, gatherings, and clubs such as these really help in breaking down these social barriers.
"Now there's even a Facebook page for the group, and people generally know each other better!"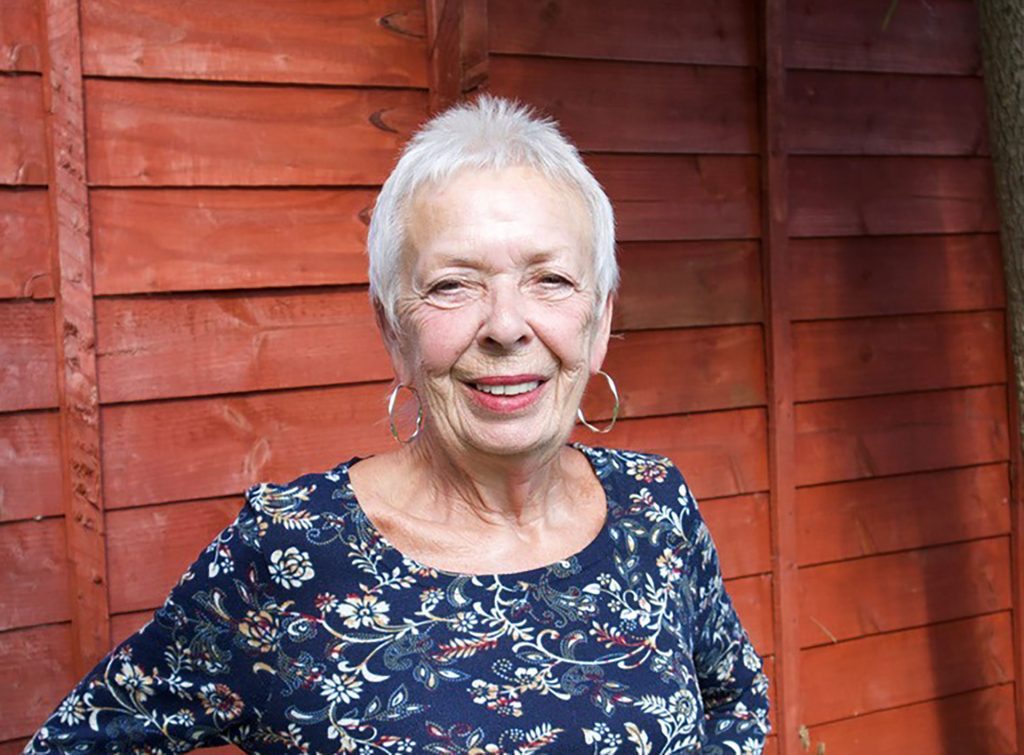 The group has also extended its social net out, liaising with local businesses in a sustainable manner to obtain resources, like re-purposing unwanted/spare tyres from a local garage.
Beyond just building a sense of community, it provides a healthy outlet for any personal struggles one might be having, and the outdoors nature of the club makes it super dog-friendly. This is particularly relevant to Sue, whose sweet little dog, Spot, "loves the garden!"
Mental Health Benefits
Group member Shahedah, also points to the importance of gardening and community on mental health and personal development.
"I joined the gardening club because of my mental health. After the COVID pandemic, I needed to find ways of getting out the house and meeting new people. It's harder than ever for young people to make friends right now. I don't have a garden myself and I read that gardening has positive impacts on mental health. In my case, that is absolutely true.
"Being able to be outside, grow, nourish, and maintain life has made a difference. Working as a group, doing tasks that feel productive, and seeing your work come to fruition is really nice. Anxiety can cause people to panic quickly about the bigger picture so being able to focus on one thing at a time helps.
"Because of my anxiety I'm usually reluctant to step outside but having a strong reason to leave, and knowing that you'll feel safe and secure when you get there, makes all the difference. I moved to this area only a few years ago. Joining groups like these makes it so you don't feel like a stranger in your own area."
Shahedah also greatly values the gardening knowledge she has now acquired since joining the club, claiming how she 'knew nothing' prior to Forks and Trowels, finding gardening 'intimidating' but is now getting used to it. She remarks finally that:
"It's great to know skills like growing your own fruit and vegetables- you feel useful to yourself."