After somewhat of a subdued festive period last year, thousands of people across the UK will be keeping their fingers crossed for a more 'normal' Christmas – whatever that may be!
However, while we eagerly anticipate decorating the tree, dining on overcooked turkey and enjoying long overdue catch-ups with friends and family (as well as the excitement of seeing what Santa will bring!), it is important to remain alive to the potential hazards that Christmas brings – some of which are much more common than you might think. Indeed, more than 80,000 people head to A&E each year for Christmas-related accidents.
Victoria Smithyman, head of the Personal Injury department at Harding Evans Solicitors, offers her top tips to keep you and your family safe as you enjoy the festive season.
Toying with danger
While the internet offers parents a tech-based equivalent to Santa's workshop, it's worth remembering that safety regulations are not always front of mind for online vendors.
Check that a CE Mark is present on all gifts, as this ensures that the product complies with the British and European Toy Safety Standards, and be alert to fake or imitation products that will likely have dodged a number of essential checks. When in doubt, why not head to your high street? After the last 18 months, independent stores and local shops will certainly appreciate your support.
Keep your kitchen hazard free
While you're busy preparing a feast, it's easy to overlook the hazards that could put a stop to sitting around the table together.
Try to prep as many items as possible ahead of time – from peeling the potatoes to par-boiling the sprouts, to avoid unnecessary stress as you try to keep a watchful eye on a number of different dishes.
Minimise the number of people in the kitchen, especially while you're taking dishes in and out of the oven – although keep your dedicated washer-upper on hand to help clear surfaces and wipe up spills quickly.
Oh Christmas tree…
More than 1,000 people are hurt each year while decorating their tree, usually while fixing decorations to the highest branches. Slips and falls also occur when people attempt to use unstable chairs or stools. Make use of your ladder and don't decorate alone – have a friend or partner (preferably a tall one) lend a hand to avoid overstretching.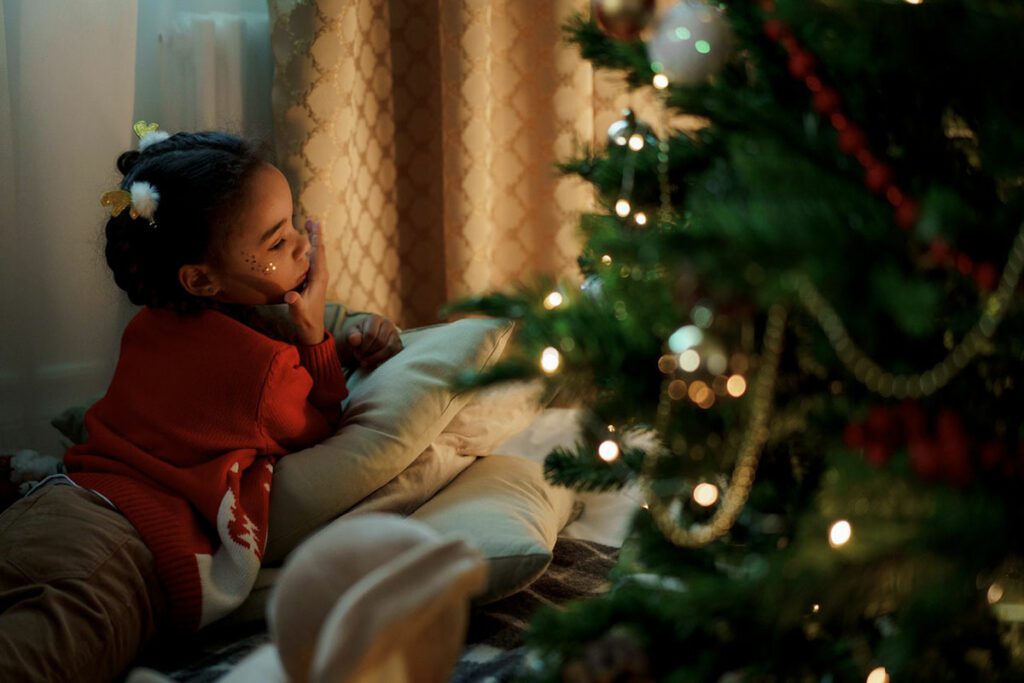 Light it up
There's nothing quite like the warm glow of Christmas lights to get you in the festive spirit. But when you're fetching the fairy lights from the attic, make sure to check that the bulbs and wiring are in good working order and replace any worn or damaged sections.
And while they may have become a key part of family tradition, those old snowman-shaped lights could present a serious fire hazard. If you have had your decorations for a while, you may want to consider replacing them, as the newer LED lights are required to meet much higher safety standards that ensure they do not burn out or become hot to the touch.
Eat, drink (responsibly) and be merry!
For many, Christmas will be a time to unwind with loved ones after yet another unpredictable year. However, drinking too much, too quickly can increase your risk of accidents.
Before you head out, make sure to grab something to eat so you aren't drinking on an empty stomach. Alternate alcoholic drinks with soft drinks – and if you can – factor in some snacks to slow down the absorption of alcohol.
Remember that drinking and driving kills. I'd advise avoiding alcohol completely if you are planning on driving, even if it is the following morning. Erring on the side of caution ensures that everyone will get to spend Christmas with their loved ones.
Your Lawyers For Life
If you have suffered an injury that was not your fault, you may be entitled to compensation. Speak to one of the friendly team at Harding Evans and find out if we can help you, today.
hardingevans.com
hello@hevans.com
02922 0676818