Chernobyl Children Cancer Care Cardiff
In Belarus there are high rates of cancer, cerebral palsy and other developmental problems seriously affecting children following the Chernobyl disaster of 1986. Chernobyl Children
Belarus was subjected to 70% of the radioactive fallout from the explosion at the nuclear power station. Those children whose parents were exposed to these extremes have been particularly vulnerable.
The 5Cs' main role in working with the Hospice is to fund- raise throughout the year to open a respite summer camp for disabled children in Belarus and to provide student volunteers from Cardiff to help run it every summer. The 5Cs have been sending volunteers to the summer camp for eight years, the majority of them being local sixth form students.
However, as well as providing essential volunteers for the children of Belarus, The 5Cs also offers local students a unique and life changing opportunity.
"Trying to distinguish one favourite moment above all those I was fortunate enough to experience during my trip to Belarus last summer is somewhat difficult to say the least." says Emily Jones from Rhiwbina, 17, a student at Whitchurch High School, Cardiff and 5Cs committee member.
"As I think back to the two weeks I spent on the children's camp for disabled children in the Belarusian countryside, to the friends I made and the unexplainable heartbreak I felt on returning home, I am confronted with a strong feeling of nostalgia at what can only be described as the most perspective-altering, attitude-changing experience of my mere 17 years.
"Perhaps it was the moment I lay in the grass with a Russian phrase book and a little girl who knew no English, struggling over the pronunciation of the Russian words she read and slowly repeated allowed for me to copy; or perhaps it was the moment my friends and I performed a dance on stage with four disabled girls, with whom we had choreographed and taught without speaking more than five words of Russian just hours before, that made me appreciate the unimportance of language as a necessity in order to connect with people.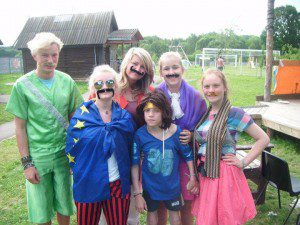 "Watching the delight on their faces as we swirled around with them, clicking our fingers and throwing our arms in the air to 'Lady Marmalade' in perfect unison, I don't think I have ever been as proud nor amazed at how wonderful it felt to be able to bring of slither of fun and light-heartedness to a group of children that dealt with and suffered so much as a result of their disabilities. Many of them orphans, a number of them close to my own age, the camp offers a chance for each individual to enjoy a time away from their everyday lives in Belarus, to a place where bundles of fun and laughter is the aim of each day.
My time in Belarus and the fundraising work I have been involved with since my return as a member of the 5Cs has more greatly impacted on my life than I would have ever expected. It is invigorating to know and be a part of a group of young people so passionate and driven towards something so worthwhile and amazing.
"It has taught me how important it was to help others less fortunate than yourself, to care about something bigger than what happens within your daily life and above all to never underestimate the ability to find happiness and love in the strangest of places. We cried our eyes out the evening we said goodbye. Although as every bit as physically tiring, mentally demanding and emotionally exhausting as I had anticipated; the volunteers and children alike I spent each waking moment with have touched my heart and altered my outlook on life irrevocably. The nights teaching simple Welsh songs around the campfire, laughing and singing as we swatted away mosquitoes in the firelight, are just a few of the many moments of life on the camp that I will forever cherish and remember."
Chairperson of The 5Cs, Bethan Powell, 23 from Rhiwbina, says "It is a complete pleasure to work throughout the year with our team of over 30 student members in Cardiff, fundraising for our common interest- the well being of the children under the care of the fantastic Belarusian Children's Hospice. I was lucky enough to begin my involvement as a student volunteer when I was 17 and I will continue to give local students the chance to experience the fantastic, dedicated people of Belarus and spend two weeks gaining the life experience that the summer camp can offer. We hope to raise awareness of The 5Cs, continue to grow and be able to further support the Hospice in the future, with the help of our incredible team of course!"