Rhiwbina is well-known for its greenery and gardens. Four Rhiwbina residents take us on a guided tour of their gardens and explain what makes them so special

Deb 
To me, my garden is a joyous celebration of nature and a multifunctional space. It changes dramatically from winter to summer, mainly because of my wisteria that has claimed its territory with unapologetic proliferation.
It's at its most stunning in May when the beautiful fragrant pendants of delicate flowers drape from the branches, giving the garden an ethereal quality. Alas, it is short-lived as their glory only lasts about two weeks. However, as spring turns to summer, the majesty of this plant is in its prime, so much so that it has to be constantly pruned. It does however, create a magnificent frame to the different spaces in my garden.
One of the main spaces is a log cabin, a haven of creativity for myself and also my students. It is a magical place of inspiration and possibilities.
It is in here that I teach sewing to adults and children. When the weather is good, my lessons spill out onto the duck egg blue cabin deck or onto my garden swing, which is of course, a big favourite with my young students. My deck is a great place to sit and catch the evening sun with dappled rays shining through the overhanging wisteria. When I have time, I will sit in my vintage wicker chair and do some hand sewing or just sit and think. I have had the cabin for 14 years and it is in desperate need of repainting which is on my to-do list for this summer – I can't put it off any longer!
After my cabin, the swing is my favourite place. It is a shade of calming sage green with a wooden canopy for a bit of privacy and shade. Most days I will sit with my breakfast, gently swaying and making a mental list of the day's itinerary. Even if it's cold, I will sit with my coat on; I find it so relaxing and peaceful. I will often use it during the day to contemplate and re-focus.
I am more of an image-maker than a gardener so my garden is very low maintenance but I do like to plant my pots each year for a burst of colour. I do love colour. Living in a small terraced house, I treat my garden as another room and people that come to visit love the tranquillity and green lushness of it, as beyond my boundaries I am lucky to be surrounded by some beautiful trees.
I am very grateful to live and work in such a wonderful place.
Gwen
When we moved in, all that was here was some grass and two apple trees. Every single plant that is here now has been planted by us over the years.
We have so many different trees here and the garden changes from season to season. During the winter months, I almost forget what's there and then when spring comes around and all the trees and plants start flowering, I remember what I've planted. It keeps me interested!
The design of the garden isn't necessarily deliberate but I'm happy with the way that things have worked out. We have yellow trees and green trees and they all seem to balance themselves out. We use the garden for coffee mornings and we also used it for Labour Party events when my daughter Mari was involved. Every Summer Festival, we run an Open Garden here and we invite a friend of ours, who is an artist, to host an exhibition. We use one part of the garden to grow all kinds of vegetables and herbs.
Over time, we've introduced arches to give the garden height as it was a very flat garden and we've also added wind chimes. We don't plan our garden as such – ideas just suddenly dawn on us and we get to work on it.
People are impressed when they come here; they often say that they love it but it is a lot of work.
The garden is a lovely place to spend time. The morning light is a lovely time to look at the plants, especially at this time of year. There are different lights at different times of the day and it's reassuring when everything comes back at spring.
My husband and I always have a cup of tea or coffee in different parts of the garden throughout the day. It's lovely to share it with people too and it's nice when people say that they love it.
Mel
My garden was used for bringing up my kids. There wasn't much point in growing things back then but I've spent 8 years developing it since.
There's a metal arch that has two rose plants climbing on it and the arch offers a nice welcome to the garden. A lot of plants have been grown from cuttings that friends have given me and some of the plants I've bought from places I've visited to remind me of them. At over 100ft long, people often remark about how long the garden is. There is lots to discover here, including a pond that contains frogs and newts. We have one patch which is succulent and needs little watering – I've only watered it once this year!
We have a greenhouse where we grow basil, cucumber and tomatoes and we also have some raised beds where we grow things like courgettes, beetroot and Swiss chard. It's a very secluded garden and we don't hear many noises out here which is why we like to eat out in the garden at breakfast time.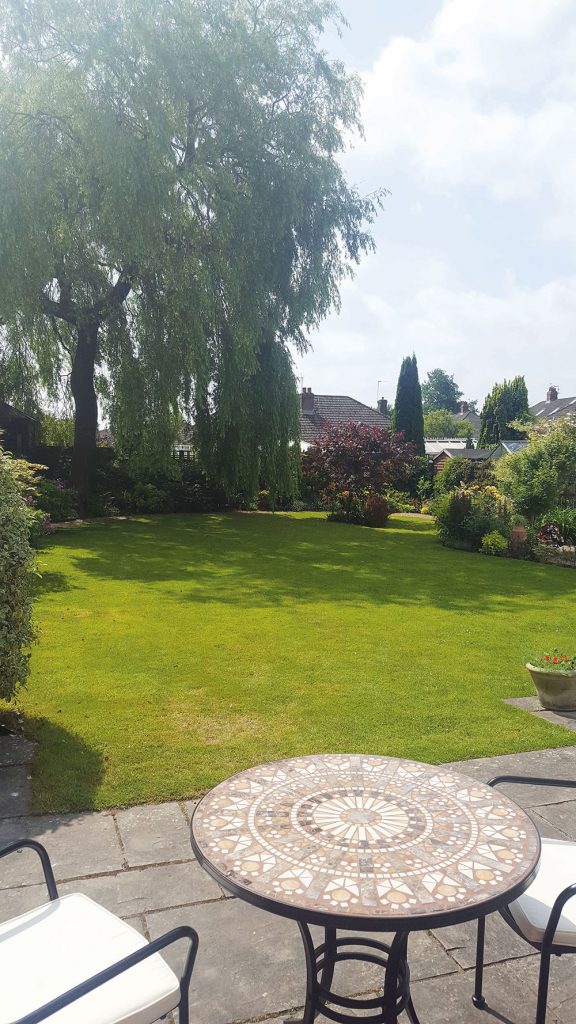 Eirian
I moved into my house 8 years ago and the garden was quite overrun. I knew what I wanted to do and it was difficult to get someone to do it. It took me two years before my son told me that he was having someone to landscape his garden and when I went down one day, I realised that this man knew what he was doing. I asked him to come and look at my garden and at first, he just stood there and didn't say very much at all.
Eventually, he asked me what I wanted and after we talked about some ideas involving curves, he took out a mountaineering rope and laid it out exactly as I had envisaged.
The first thing people do when they walk into the garden is look at the Weeping Willow tree and say 'What a beautiful tree'. Then they look at the rest of the garden.
I like the raised borders that we have here as many people don't have them. It's not a flat garden so the garden includes a few steps here and there. The garden looks beautiful in the autumn when everything turns red and we have evergreens for the winter so that there's something here all year round.
If we do get time to relax in the garden, my family come round and we walk around with a glass of wine in our hands, admiring the flowers.
I walk around sometimes and remember how it's changed since we moved in. I'm very proud of what we've managed to achieve here. Last year, we had people here for the Open Gardens Day and people were sat on the lawn. I remember thinking that they must feel at home here. People say that it's very calming and that's very true.