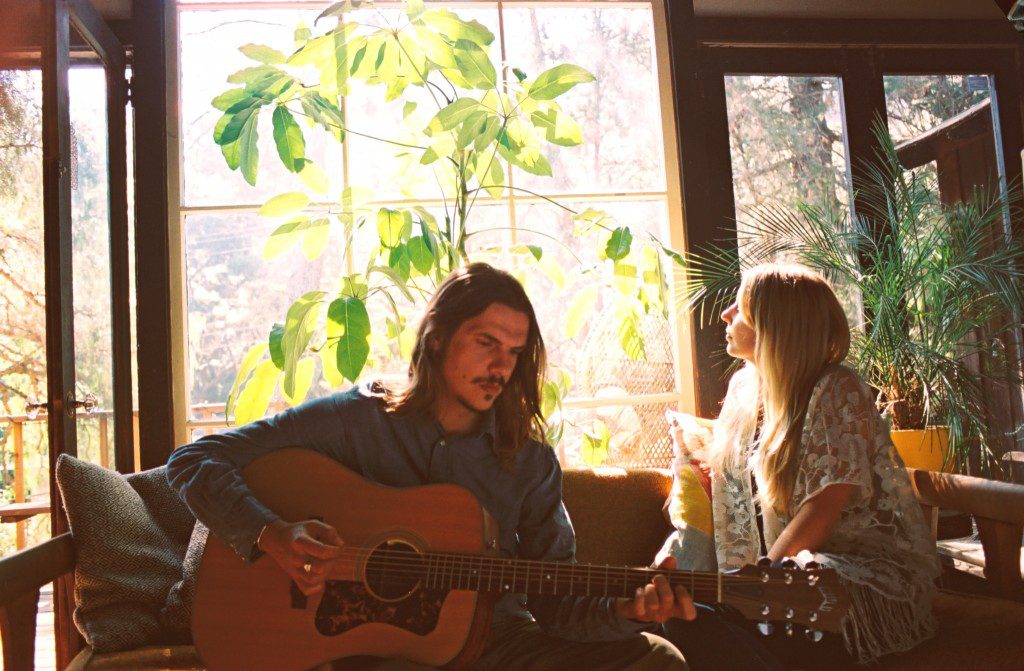 The discerning lover of real music will know the distinctive name of Zervas and Pepper, the Cardiff-based folk-rock duo whose luminous harmonic, laid-back sound is currently making waves on UK and Ireland Radio stations BBC Radio 2, BBC 6 Music and RTE, as well as a growing presence on the UK wide Live circuit.
"Both Paul [Zervas] and I have been playing in bands and writing music since we were teens." says Kathryn, the Pepper half of the duo. "We're both self-taught musicians who got obsessed with acoustic guitars and singing in harmony."
"We were both drawn to a music venue in Cardiff called 'The Toucan' around ten years ago. There were a bunch of great musicians putting on shows at the time and we were hanging out night after night, watching this amazing musicianship and wanting to get in on the action. We didn't know each other then and were performing as solo artists on the open-mic circuit. Our original material had a kinship in sound and if we did play a cover, it would be from a similar kind of artists. We started guesting on each other's live performances and became friends. We also got together and started fronting the Toucan house band. We decided the chemistry we had together as writers and performers was too good to pass up and we pooled our money and headed to a studio and got the bug for making records."
Under their own label 'Zerodeo' Records, the band released two introductory EPs in 2008 and 2009 respectively and in spring 2011 put out their debut Album 'Somewhere in the City'.
"We've been heavily influenced by people like Joni Mitchell, Jimmy Webb, Crosby, Stills, Nash & Young, Gram Parsons & Emmylou Harris, Buffalo Springfield and Gene Clark – mainly for the song craft and approach to making records. Using session players to build a sonic backdrop is so much fun. We have to thank Joni for thinking outside the box in terms of tunings – all these artist have a storytelling approach which is something we love to do and all are big on harmonies which has had a big influence on us."
The duo released their second LP 'Lifebringer' released in July 2013 to much critical acclaim from press and radio. Their single 'Sure Fire Bet' spent four weeks on the BBC Radio 2 and RTE1 playlists.
"I think songwriting is a reaction to the things that are impacting your life at the time you're writing. Our 2013 album 'Lifebringer' was an escape from reality for us. Life gets pretty dark at times – we all go through losses and sadness and instead of emotionally processing that while it's still raw, we escaped into stories, taking ourselves and our audience to sunnier places through the songs. For the record we're writing now, the songs have a more personal meaning as we're processing the last few years and really thinking about our place in the world and where we're heading collectively. The creative process is interesting when writing in a pair – you have to be open to evolving ideas. We tend to have an almost complete song written when we introduce the song to each other. From there we'll expand on ideas, usually the other person will throw a curve ball and take the song in a new direction."
As word continues to spread, with a string of live dates ahead and an ever growing live set up, Zervas and Pepper continue to bring strong live performance to the fore appearing at festivals and theatres as a two or six piece outfit.
"There have been so many great moments for us so far – performing at Hyde Park for the BBC last year. Our first international tour to India was also an amazing experience. We were part of a 'Celtic Connections' show in Glasgow early this year which celebrated the Laurel Canyon songwriter scene – that was an incredible night. We had a massive onstage jam with 27 other players including Dawes, The Webb Sisters, Idlewild, Lindi Ortega, Roddy Hart. It was so much fun to be part of."
This year's itinerary will bring Zervas and Pepper in front of a Cardiff crowd this month then they take part in the Welsh Proms at St. David's Hall.
"We like the idea that the Proms organisers are throwing a curve ball at the audience and shaking things up by including a contemporary folk-rock band like ourselves. They plan to encompass more musical genres and open the event up to a broader audience. We're very into jumping genres and believe 'good music is good music', why put things in boxes and keep audiences apart? So this year from the Proms you can expect the best in Folk, Jazz, Rock, Pop and of course the traditional Orchestral proms event. We're from Cardiff and St Davids Hall means a lot to our whole band; we've all been influenced by the live shows we've seen there over the years. It has great acoustics and is one of the best sounding theatres in Wales. We're very much looking forward to the show. We'll also be debuting be some new songs also so that's always exciting for us and hopefully the audience."
And there's plenty more from the duo after the Proms, it's all go for the duo.
"This year we head out for some big festival shows and after that we'll mostly be recording our next album release. We've given ourselves a bit of time to make this record which should be available in spring next year. After that we hope to hit the road and play as much as possible!" added Kathryn.
Zervas and Pepper will be appearing at St David's Hall on Monday 21st July at 7.30pm.
More information and tickets here.