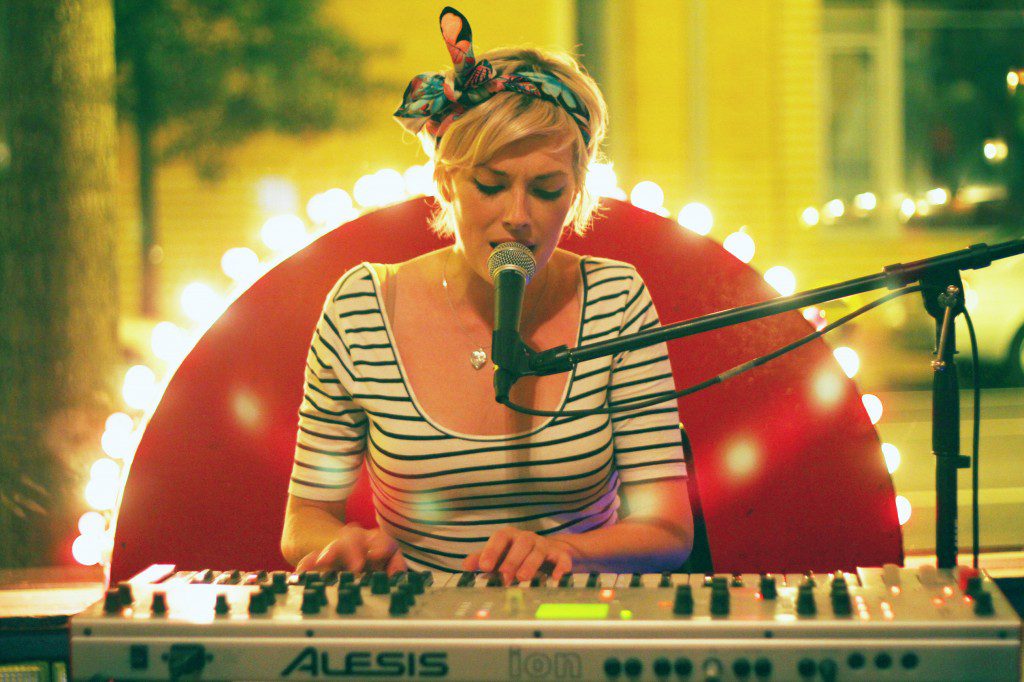 Gwenno Saunders
It's certainly been a unique and creative career so far for Welsh pop musician Gwenno Saunders. A lead dancer in Michael Flatley's Lord of the Dance at the age of 17, a role in Pobol y Cwm, her own show on S4C and currently one half of The Pipettes, Gwenno has become one of Cardiff's most talented exports.
Yet, her formative years were right here in North Cardiff. Gwenno attended Ysgol Gyfun Gymraeg Glantaf in Llandaff North, which to date, has provided the world with a glut of respected and well-known celebrities.
"North Cardiff is a little outside the city so it was quieter there than other parts of Cardiff. My favourite memories of the school are probably from break times – corner shops and hanging out at the sandpit at the end of the playing field. As it was the only first language Welsh school in Cardiff at the time it meant that anyone who'd gone to a Welsh speaking primary school ended up there which made it incredibly diverse. There's also the fact that there seemed to be an influx of Welsh speakers who had moved from other areas of Wales for work, in the media or otherwise. It meant that a lot of pupils could take advantage of the fact they spoke good Welsh for work in TV and music. I think that's why it's produced so many talented and well-known personalities."
Gwenno's musical roots however, go back even further. Her father, Tim Saunders is the noted Cornish poet and linguist.
"My parents have had a huge influence on me with regards to music and the arts in general. My Mum was a founding member of Cor Cochion Caerdydd, a socialist street choir who sing every Saturday in town. She still sings with them to this day. We always sang with her when we were young and went on anti-apartheid marches and miner's pickets most weekends. My Dad on the other hand always wrote poems and stories for us in Cornish when we were growing up. I can't count the amount of hours that he, Ani (my sister) and I made up really silly songs about traffic lights, toys and food!"
Gwenno's appetite for music at a young age led her to Las Vegas when she became a cast member of Lord of the Dance at the age of just 17.
"Ani and I always did Irish dancing. I wasn't hugely interested in school at the time (being a typically rebellious teenage girl) and a chance to audition came up in Dublin. I went to Coleg Glan Hafren for two weeks and then I got the call to join and tour the world. Don't get me wrong, I worked hard at it but it really was a wonderful opportunity, especially as Irish dancing had really been an underground thing up until that point. I had never imagined earning a living from it.
"I missed Wales a lot though. I missed its sense of history. Las Vegas has always demolished its own history which has been a shame I think. It really was just the complete opposite of what I'd known. It really is only one city in the US though, and I'm glad I experienced it. But three days in Vegas is enough, let alone two years!"
Lord of the Dance provided Gwenno with a big break, but ultimately, it gagged her creative streak. During her two years in Las Vegas, Gwenno's yearning to create her own music brought about a new way of expressing herself – and also brought her back home to Cardiff.
"I left Lord Of The Dance when I was 19. I'd been thinking a lot about wanting to make music, encouraged by my dancing experiences and was looking for new ways of creative expression. I'd always absolutely adored music and singing, enjoyed playing the piano and violin as well as making up songs, so I moved back to Wales. I released a few EPs on Crai Records which is a part of Sain, and in that process I met people who knew the British pop girl group, The Pipettes. I went to see them play and purely by chance, they were looking for a singer. I was touring with Riverdance at the time and wasn't sure which direction I should take with my music but the band were perfect – they had made pop music as it should be. I joined them in April 2005. Ani, my sister then joined in 2008."
Their singles Pull Shapes, released in 2006, and Your Kisses are Wasted On Me, released in 2007, both did well in the UK, US and Asian singles charts.
"We've toured the world over the past six years, played some amazing shows and just recently released our second album Earth VS The Pipettes. Who knows which direction the band will take next? I've always followed my nose when it comes to these things so I'm sure it'll become clear soon."
Gwenno's strong Celtic roots have given her a sense of free spirit. It's also given her a passionate view of her own country that highlights a great lack of appreciation of life as society tumbles through the great technology revolution.
"I've been incredibly lucky to speak both Cornish and Welsh fluently. As well as doing the Irish dancing, I've developed an understanding of Irish history and music. These languages and cultures are so important to our sense of who we are and what makes us different. It's part of the fabric of the British Isles and one that is important to celebrate and to keep alive. Society tries to evolve and move forward at an alarming rate and people's obsession with the idea of the future has almost become null and void with the information revolution. We've destroyed our planet and lost meaning and reason for our existence, it's worth remembering our forefathers, that connection with the earth, where we've come from, and with our own imaginations."
Gwenno's been looking to use these thoughts and her experiences in her latest project.
"I'm writing a solo album at the moment. It's just at the demo stage but I'm trying to pull all of my influences together- old worlds and new, into a coherent pop record. My aim is to keep on making music, keep on performing and creating."
But the capital city of Wales has not left the woman who has never forgotten her North Cardiff roots.
"I don't get back often enough. I love Cardiff."