"I love coming to Cardiff. It's a very homely place, probably because of that old Celtic connection going on."
For the last 30 years, Mary Black has been a commanding figure in Irish music, both in Ireland and across the world. This May, she plays St David's Hall as part of her 'Last Call' Tour – her last official tour of the UK.
"The travelling's getting too much now you know. I want to go out on a good high and do other things. More than anything, I want to enjoy my time off."
Mary has received many awards and much critical acclaim over the years. She has recorded and performed with some of the world's most legendary names – Joan Baez and Van Morrison among them.
But that wasn't the plan when Mary set out on her career back in the 1980s.
"Music was always a big thing in my family. My father came from an island off Antrim while my mother came from Dublin. She loved singing while Dad loved to play the fiddle. They passed on a great deal to me and my three brothers and sister. I would never have dreamed that my career turned out the way it did when I joined my first band De Dannan in the mid-eighties. I'd already released two albums before that time, but it was then that things really began to take off."
Mary made two acclaimed albums with De Dannan. She re-united with Declan Sinnott (formerly of the pioneering Horslips) to record her second solo album Without the Fanfare in 1985 – an album that achieved gold sales status. 1987 saw the release of her first multi-platinum album By the Time it Gets Dark and led to The Telegraph to describe her voice as 'serene and achingly beautiful'. By now a household name throughout Ireland, she was named Entertainer of the Year in 1986 and Best Female Artist in 1987 and 1988.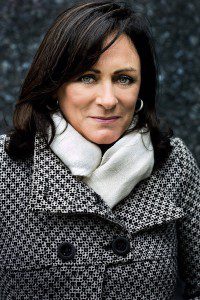 "I took each step up the ladder in my stride." she says. "During the nineties, as the venues got bigger and bigger, I would think to myself that I'd made it – I'd stand looking out over the crowd at the Olympic Theatre Dublin and 'Wow – this is it!'. Then a few years later, I'd be standing looking out over a sell-out crowd at the Royal Albert Hall and think the same thing!" Her touring took her all over the world, including the US, Australia and Japan.
Mary's UK concerts drew high praise from the British press. There were superb reviews from The Guardian, The Times and The Telegraph. She was also featured on the cover of the US music trade Bible Billboard which described her as 'a firm favourite to join the heavy-hitting ranks of such Irish artists as Enya, Sinéad O'Connor and Clannad's Máire Brennan in the international marketplace.'
"My next album, The Holy Ground in 1993 went platinum on the day of its release." she says. It was followed by five sell-out shows at the Point Theatre in Dublin to an audience of 20,000 people.
Speaking with the Angel followed in 1999, and in 2005, Mary moved to West Kerry to record her first studio album in six years, Full Tide. It included songs by some of her favourite writers such as Bob Dylan, but it also saw her make her debut as a composer in her own right.
2008 marked the 25th anniversary of Mary's first solo album, and to celebrate the momentous occasion Mary released a special compilation double album 25 Years/25 Songs. It featured a personal, hand-picked selection of gems spanning Mary's career and it still serves as a testament to the extraordinary range and quality of both her vocal prowess and her astute song selection. Mary recorded two brand new songs for the project, and the album went straight to No. 1 in the Irish charts, where it remained for a staggering five weeks, spending over seven months in the Irish top 40!
"I've achieved more than anything I wanted. I'm not massively rich by any means but I'm happy that I could make a living out of it – and on top of that – was able to bring up three kids unscathed. Doing what I wanted to do while bringing up a family is my achievement."
Mary's musical legacy has already been begun to sprout – her son Danny plays in The Coronas and her daughter Róisín O is an established solo artist.
"I've told them not to go into it for the notion of fame and riches. I was lucky – I was in the right place at the right time. I seemed to hit a chord with people and that helped me on my way.
"The people of Cardiff cane expect a good all-round show on the 15th May. I was recently asked to write my own autobiography so I'll be reading excerpts of that before some of the songs to give the audience some background to the songs. My piano player Pat has been playing with me for 28 years and guitarist Bill has been playing alongside me for 20. We've also got a great saxophonist and bassist as well as some special guests who will be opening the show."
Mary Black visits St Davids Hall on Friday 15th May.
Ticket from the Box Office on 029 2087 8444 or at www.stdavidshallcardiff.co.uk