Co-founder and Bassist of Dire Straits, John Illsley Talks Exclusively to Living Magazines Cardiff about Dire Straits, His Solo Career and His Forth-Coming Visit to Cardiff

120 million albums sold. A clutch of BRIT, MTV and Grammy Awards. Even a ceremonial plaque installed in to commemorate the location that his band performed their first live gig.
To co-founder and bassist of Dire Straits, John Illsley, it's all in day's work. But for John, who will be visiting Cardiff next month to promote his new album 'Testing the Water', becoming a rock legend wasn't particularly on his agenda as a youngster.
"A lot of stuff happens subconsciously when you're at that age. We led a simple country life in the Midlands when I was a child. I got sent away to school at the age of 13 and got interested in art and music by a very stimulating art teacher. We're talking here about the 1960s when there was a lot of energy with the Beatles and the Rolling Stones making waves both musically and culturally. Couple that fresh, vibrant energy with a teenager like myself and there was always going to that connection. Looking back, that connection was significant to what I've done and that I still am doing with my career."
It was in 1977 that Dire Straits was formed by John, brothers Mark and David Knopfler, and drummer Pick Withers, who gave the band their name. They recorded a five-song demo tape that included their future hit single 'Sultans of Swing'. They took the tape to DJ Charlie Gillett who had a radio show on BBC Radio London. The band were simply after advice from the DJ but he liked the music so much, that he played 'Sultans of Swing' on his show. Barely two months later, Dire Straits signed a recording contract with Phonogram Records.
The group's first album, Dire Straits, was not particularly well received but the band began to tour as the openers for Talking Heads after 'Sultans of Swing' finally started to climb the UK charts. This led to a United States recording contract with Warner Bros. Records; by the end of 1978, Dire Straits had released their self-titled debut worldwide, were topping the charts in Canada, Australia and New Zealand and would eventually go on to the top 10 charts in every European country. The following year, Dire Straits embarked on their first North American tour. They played 51 sold-out concerts over a 38-day period.
"There were a few moments during my time with Dire Straits where we thought 'Hang on – we've made it big' – times such as making it to Number One in the United States, which was a big thing." says John, "But like any situation that you find yourself in, and without taking anything away from it, it all becomes very 'normalised', if that's the right way to describe it. To us, things like that became normal, very much like if you choose a different career path. If you become a politician, that way of life becomes normal to them. We didn't set out to become rock stars."
After several successful albums, 'Brothers in Arms' entered the UK Albums Chart in May 1985. It was to cement the band's position as true global superstars. It charted at number 1 and spent a total of 228 weeks in the charts. It went on to become the best-selling album of 1985 in the UK. 'Brothers in Arms' was similarly successful in the US, peaking at No. 1 on Billboard 200 for nine weeks, going multi-platinum, and selling nine million copies. The album spent thirty-four weeks at number 1 on the Australian ARIA Chart, making it the longest-running number one album in Australia.
"We had no common desire to do become rock stars as such – we were a bunch of strong musicians who wrote music for ourselves. It was the icing on the cake that people enjoyed what we were doing. We were never affected by trends – we ploughed our own furrow for want of a better phrase! Selling lots of records was a consequence of what we were doing but it was a truly humbling experience."
Dire Straits packed up their instruments in 1987 for a much-deserved rest. While singer and guitarist Mark Knopfler busied himself with his solo work, John too started penning his own work. He released his second solo album 'Glass' in 1988 and has gone on to release several more. His latest, 'Testing the Water', is perhaps his most profound, composed at a time when John was facing a huge personal battle.
"Several of the tracks – 'Darling Heart' and 'Railway Tracks' were written in hospital while I was dealing with leukaemia. If you listen to some of the tracks, the lyrics reflect my state of mind at the time. When you're faced with the prospect of dying, it really does have a profound effect on you – you realise that importance of some things and not of others. The only way I can describe it is feeling very 'grubby' on the inside as the chemo gets to work inside you. Facing cancer is often coined as a 'battle'. I didn't physically feel that I was battling but it was strange knowing that there really was a battle going on inside me, albeit on a microscopic level. I was deeply touched by my friends and family who were there to support me."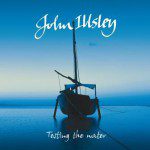 John brings his new album and some much-loved Dire Straits work to Cardiff when he plays St. David's Hall on October 7th.
"I haven't been to Cardiff since the 1970s when I had friends in university there. I'm really looking forward to it – I've heard there's been a lot of money thrown at it. I'm hoping I'll recognise some of it!"
"I'll be playing some of my new work to but we'll split it down the middle 50/50 between my solo work and Dire Straits stuff – people can't come to my concert and expect me not to play any [Dire] Straits songs! We got a six-piece band, including Phil Palmer, who has worked with me on some of my other solo albums and who's played plenty of Dire Straits stuff with me. There'll be a few other nice touches thrown in – I'm really looking forward to it."
John Illsley and His Band will be performing songs from his latest album 'Testing the Water' and some classic Dire Straits songs, including Sultans of Swing, Money for Nothing and Brothers in Arms at St David's Hall on Tuesday 7th October. Book your tickets here.